---
Synopsis:
'R' is a zombie. He has no name, no memories and no pulse, but he has dreams. He is a little different from his fellow Dead.

Amongst the ruins of an abandoned city, R meets a girl. Her name is Julie and she is the opposite of everything he knows – warm and bright and very much alive, she is a blast of colour in a dreary grey landscape. For reasons he can't understand, R chooses to save Julie instead of eating her, and a tense yet strangely tender relationship begins.

This has never happened before. It breaks the rules and defies logic, but R is no longer content with life in the grave. He wants to breathe again, he wants to live, and Julie wants to help him. But their grim, rotting world won't be changed without a fight…
---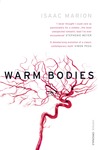 Warm Bodies by Isaac Marion
My rating: 4 of 5 stars
This book was really sweet. Of course it was written as a modern day Romeo and Juliet (R and Julie, obviously) with a balcony scene and everything! But what made it modern was the fact that they don't die at the end + zombies + other creepier dead "boneys." I think what I loved most about it was the ending because they actually did come up with a cure. I've read a few zombie novels and seen a few zombie movies and all of the endings were, "at least we're together" Apocalypse Z: The Beginning of the End or "the army is going to take care of it" [Shawn of the Dead], but this gave a sense of real hope. However, it was meant for YA and the zombies were semi-unrealistic. The other part that was unique to this book is that we get inside the head of a zombie. All the other zombie movies/ books are through the eyes of humans who are trying to survive. Marion gives a good, fresh perspective. I think R's ability to articulate his thoughts and change his ways makes the character more human. The only time that we were ever questioning his humanity is when he eats, which is only two distinct times in the book. The other times he is real. And good. The angle of Perry being a part of his life and this change is significant because it was more of a sacrifice. If Perry didn't die, R would not have seen that he needed to change. The progress of curing the Dead would have taken longer. But again, R was a lot more involved mentally in his life than others seemed to be. But a spark is a spark and I think we were lucky that R was our narrator.
The only improvement I would suggest is for the end, for R to remember who he was in a past life or his name.