👻👻 

H

a

p

p

y

H

a

l

l

o

w

e

e

n

! 

👻👻
If your idea of fun on All Hallow's Eve isn't dressing up as a sexy pumpkin-spiced latte and watching dude bros vomit copious amounts of festive-colored alcohol, pick up one of these chilling tales to keep you company while you scarf down all that on-clearance candy you bought. 
🎃🎃🎃🎃🎃🎃🎃🎃🎃🎃🎃🎃🎃🎃🎃
Ghost Summer by Tananarive Due – In her debut collection of short fiction, Due takes us to Gracetown, a small Florida town that has both literal and figurative ghost; into future scenarios that seem all too real; and provides empathetic portraits of those whose lives are touched by Otherness. Featuring an award-winning novella and fifteen stories—one of which has never been published before—Ghost Summer: Stories is sure to both haunt and delight.
Horns by Joe Hill – Ignatius Perrish spent the night drunk and doing terrible things. He woke up the next morning with a thunderous hangover, a raging headache… and a pair of horns growing from his temples. At first Ig thought the horns were a hallucination, the product of a mind damaged by rage and grief. He had spent the last year in a lonely, private purgatory, following the death of his beloved, Merrin Williams, who was raped and murdered under inexplicable circumstances.  The only suspect in the crime, Ig was never charged or tried. And he was never cleared. In the court of public opinion in Gideon, New Hampshire, Ig is and always will be guilty because his rich and connected parents pulled strings to make the investigation go away. Nothing Ig can do, nothing he can say, matters. Everyone, it seems, including God, has abandoned him. Everyone, that is, but the devil inside… Now Ig is possessed of a terrible new power to go with his terrible new look—a macabre talent he intends to use to find the monster who killed Merrin and destroyed his life. Being good and praying for the best got him nowhere. It's time for a little revenge…
The Strain Trilogy by Guillermo Del Toro and Chuck Hogan -THE STRAIN: A plane lands at JFK and mysteriously 'goes dark', stopping in the middle of the runway for no apparent reason, all lights off, all doors sealed. The pilots cannot be raised. When the hatch above the wing finally clicks open, it soon becomes clear that everyone on board is dead – although there is no sign of any trauma or struggle. Ephraim Goodweather and his team from the Center for Disease Control must work quickly to establish the cause of this strange occurrence before panic spreads.
THE FALL: Humans have been displaced at the top of the food chain, and now understand – to their outright horror – what it is to be not the consumer, but the consumed. Ephraim Goodweather, director of the New York office of the Centers for Disease control, is one of the few humans who understands what is really happening. Vampires have arrived in New York City, and their condition is contagious. If they cannot be contained, the entire world is at risk of infection…
THE NIGHT ETERNAL: After the blasts, it was all over. Nuclear Winter has settled upon the earth. Except for one hour of sunlight a day, the whole world is plunged into darkness. It is a near-perfect environment for vampires. They have won. It is their time. Almost every single man, woman and child has been enslaved in vast camps across the globe. Like animals, they are farmed, harvested for the sick pleasure of the Master Race. Almost, but not all. Somewhere out there, hiding for their lives, is a desperate network of free humans, continue the seemingly hopeless resistance. Everyday people, with no other options – among them Dr Ephraim Goodweather, his son Zack, the veteran exterminator Vassily, and former gangbanger Gus. To be free, they need a miracle, they need divine intervention. But Salvation can be a twisted game – one in which they may be played like pawns in a battle of Good and Evil. And at what cost…?
Sandman Vol. 1-10 by Neil Gaiman – New York Times best-selling author Neil Gaiman's transcendent series The Sandman is often hailed as the definitive Vertigo title and one of the finest achievements in graphic storytelling. Gaiman created an unforgettable tale of the forces that exist beyond life and death by weaving ancient mythology, folklore and fairy tales with his own distinct narrative vision.
Fledgling by Octavia Butler – Fledgling is the story of an apparently young, amnesiac girl whose alarmingly inhuman needs and abilities lead her to a startling conclusion: She is in fact a genetically modified, 53-year-old vampire. Forced to discover what she can about her stolen former life, she must at the same time learn who wanted – and still wants – to destroy her and those she cares for and how she can save herself. Fledgling is a captivating novel that tests the limits of "otherness" and questions what it means to be truly human.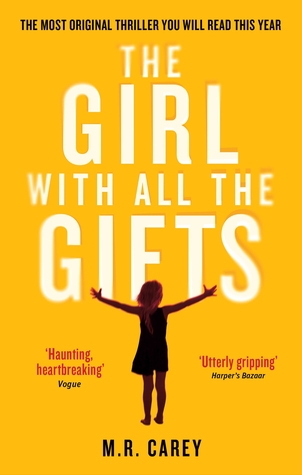 The Girl With All the Gifts by M.R. Carey – Melanie is a very special girl. Dr. Caldwell calls her "our little genius." Every morning, Melanie waits in her cell to be collected for class. When they come for her, Sergeant Parks keeps his gun pointing at her while two of his people strap her into the wheelchair. She thinks they don't like her. She jokes that she won't bite, but they don't laugh. Melanie loves school. She loves learning about spelling and sums and the world outside the classroom and the children's cells. She tells her favorite teacher all the things she'll do when she grows up. Melanie doesn't know why this makes Miss Justineau look sad.
Zone One by Colson Whitehead – In this wry take on the post-apocalyptic horror novel, a pandemic has devastated the planet. The plague has sorted humanity into two types: the uninfected and the infected, the living and the living dead. Now the plague is receding, and Americans are busy rebuild­ing civilization under orders from the provisional govern­ment based in Buffalo. Their top mission: the resettlement of Manhattan. Armed forces have successfully reclaimed the island south of Canal Street—aka Zone One—but pockets of plague-ridden squatters remain. While the army has eliminated the most dangerous of the infected, teams of civilian volunteers are tasked with clearing out a more innocuous variety—the "malfunctioning" stragglers, who exist in a catatonic state, transfixed by their former lives.
Southern Reach Trilogy (Annihilation, Authority, Acceptance) by Jeff VanderMeer – Area X—a remote and lush terrain—has been cut off from the rest of the continent for decades. Nature has reclaimed the last vestiges of human civilization. The first expedition returned with reports of a pristine, Edenic landscape; all the members of the second expedition committed suicide; the third expedition died in a hail of gunfire as its members turned on one another; the members of the eleventh expedition returned as shadows of their former selves, and within months of their return, all had died of aggressive cancer. A new team embarks. As they press deeper into the unknown—navigating new terrain and new challenges—the threat to the outside world becomes more daunting.
House of Leaves by Mark Z. Danielwski –  Now, for the first time, this astonishing novel is made available in book form, complete with the original colored words, vertical footnotes, and newly added second and third appendices. The story remains unchanged, focusing on a young family that moves into a small home on Ash Tree Lane where they discover something is terribly wrong: their house is bigger on the inside than it is on the outside. Of course, neither Pulitzer Prize-winning photojournalist Will Navidson nor his companion Karen Green was prepared to face the consequences of that impossibility, until the day their two little children wandered off and their voices eerily began to return another story — of creature darkness, of an ever-growing abyss behind a closet door, and of that unholy growl which soon enough would tear through their walls and consume all their dreams.
Fevre Dream by George R.R. Martin – When struggling riverboat captain Abner Marsh receives an offer of partnership from a wealthy aristocrat, he suspects something's amiss. But when he meets the hauntingly pale, steely-eyed Joshua York, he is certain. For York doesn't care that the icy winter of 1857 has wiped out all but one of Marsh's dilapidated fleet. Nor does he care that he won't earn back his investment in a decade. York has his own reasons for wanting to traverse the powerful Mississippi. And they are to be none of Marsh's concern—no matter how bizarre, arbitrary, or capricious his actions may prove. Marsh meant to turn down York's offer. It was too full of secrets that spelled danger. But the promise of both gold and a grand new boat that could make history crushed his resolve—coupled with the terrible force of York's mesmerizing gaze. Not until the maiden voyage of his new sidewheeler Fevre Dream would Marsh realize he had joined a mission both more sinister, and perhaps more noble, than his most fantastic nightmare…and mankind's most impossible dream.  Here is the spellbinding tale of a vampire's quest to unite his race with humanity, of a garrulous riverman's dream of immortality, and of the undying legends of the steamboat era and a majestic, ancient river.
How To Recognize A Demon Has Become Your Friend: Necon Contemporary Horror by Linda Addison – Who doesn't need to know How To Recognize A Demon Has Become Your Friend? From the first African-American to receive the HWA Bram Stoker award, this collection of both horror and science fiction short stories and poetry reveals demons in the most likely people (like a jealous ghost across the street) or in unlikely places (like the dimension-shifting dreams of an American Indian). Recognition is the first step, what you do with your friends/demons after that is up to you.  
Revenant Road by Michael Boatman – Bestselling crime writer Obadiah Grudge has got it all: money, fame and a heavy drinking problem. But when he learns of a violent death in the family, his otherwise predictable life ignites in a firestorm of supernatural violence. Everything Grudge thought he knew about his estranged father was wrong, his only legacy one of darkness and horror. His father was the world's greatest monster-hunter, and now creatures from humanity's darkest nightmares are coming for him, even though he wants nothing to do with the "family business." But with the supernatural community determined to destroy the son of their greatest enemy, Obadiah Grudge's survival becomes his first priority. We all walk the road. Some are born to it. For Obadiah Grudge, destiny is a one way journey into terror…
Things That Go Bump In My Head: A Book of Short Stories by Sumiko Saulson –  A bit of old fashioned horror… a ghost story… a couple of works on the dark humor side of horror (and they are unabashedly funny), a science-fiction dystopic tale, a few works of psychological horror… even a bit of poetry. It contains: "Frankenzombie", "A Life of Her Own", "Agrippa", "I, Stammer (In Disbelief)", "Dead Horse Summer", "Attempted Happiness" and other short stories. Because it is a collection of these pithy and varied tales… there is a bit for everyone: Reading "Things That Go Bump In My Head" is like entering a haunted house ride… you never know what you will find around around the corner.