Happy New Year!
Welcome to 2016 and our first batch of new releases. As you can see from the title, we're breaking these up into 2 posts each month,  so we can get more reading recs to you and in a more timely fashion. With all of our busy lives, you might forget that awesome book coming out on the 31st. We have a duty to not let that happen.
---
The Wave by Hoa Pham (January 1, 2016; Spinifex Press; Women's Fiction) –
I remember how you were,
not how you are. We were we
until we became you and I.
Midori and Âu Cô are international
university students tasting freedom
from family for the first time. They
discover Melbourne and each other.
All is well until the tsunami that
swamps their world…
We were we until you made us me and you… .
Midori and Âu Cô are international university students in Melbourne. They play at being silver dragons birthing pearls from their mouths. They are united by loneliness. Midori's parents are killed by the tsunami in Fukushima and soon after Midori and Âu Cô witness a university shooting. Midori ends up in a psychiatric hospital, not able to cope with the double blow.
Âu Cô is courted by a Vietnamese-Australian boy (Dzung) who has also survived the shooting. Dzung is unaware of Midori and Âu Cô's relationship and pressured by his parents asks Au Co to marry him. Midori is silenced and unable to out herself and Âu Cô she understands too well the pressures of family. Âu Cô accepts since her own family wants to migrate to Australia. Midori absconds before the wedding to the Blue Mountains. She suicides close to the Three Sisters. Âu Cô is left to work through her guilt. She falls pregnant to Dzung and after she gives birth she looks closely at his skin. The little baby has silver dragon scales running down his neck.
Midnight Taxi Tango (Bone Street Rumba, #2) by Daniel José Older (January 5, 2016; Roc; Urban Fantasy) – The streets of New York are hungry tonight…
Carlos Delacruz straddles the line between the living and the not-so alive. As an agent for the Council of the Dead, he eliminates New York's ghostlier problems. This time it's a string of gruesome paranormal accidents in Brooklyn's Von King Park that has already taken the lives of several locals—and is bound to take more.
The incidents in the park have put Kia on edge. When she first met Carlos, he was the weird guy who came to Baba Eddie's botánica, where she worked. But the closer they've gotten, the more she's seeing the world from Carlos's point of view. In fact, she's starting to see ghosts. And the situation is far more sinister than that—because whatever is bringing out the dead, it's only just getting started.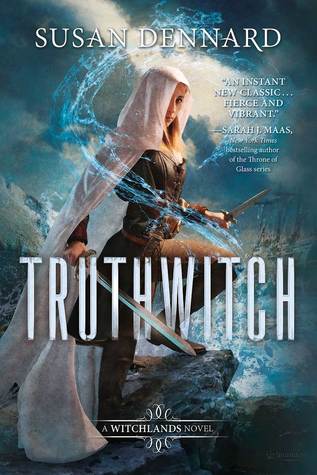 Truthwitch (The Witchlands #1) by Susan Dennard (January 5, 2016; Tor Teen; YA/SFF) – On a continent ruled by three empires, some are born with a "witchery", a magical skill that sets them apart from others.
In the Witchlands, there are almost as many types of magic as there are ways to get in trouble—as two desperate young women know all too well.
Safiya is a Truthwitch, able to discern truth from lie. It's a powerful magic that many would kill to have on their side, especially amongst the nobility to which Safi was born. So Safi must keep her gift hidden, lest she be used as a pawn in the struggle between empires.
Iseult, a Threadwitch, can see the invisible ties that bind and entangle the lives around her—but she cannot see the bonds that touch her own heart. Her unlikely friendship with Safi has taken her from life as an outcast into one of reckless adventure, where she is a cool, wary balance to Safi's hotheaded impulsiveness.
Safi and Iseult just want to be free to live their own lives, but war is coming to the Witchlands. With the help of the cunning Prince Merik (a Windwitch and ship's captain) and the hindrance of a Bloodwitch bent on revenge, the friends must fight emperors, princes, and mercenaries alike, who will stop at nothing to get their hands on a Truthwitch.
No Obligation Required (Brew Crew #2) by Kelly Jamieson (January 5, 2016; Samhain Publishing, Ltd.; Contemporary Romance) –  To err is human, to forgive is against his policy.
Bailey Harris is eager to move up at Huxworth Packard. Her mentor advises her to network more after hours. But that means she'll have to reveal the reason she rushes out of the office at five o'clock on the dot—and it's not for happy hour Cosmos.
On the other hand, more office time means more opportunities to feast her eyes on the firm's executive creative director, the gorgeous, brilliant Mason Ward.
Mason sure has noticed the sweet, sexy media girl, but with a past that left his heart an echo chamber, his focus is on work. The occasional itch he scratches with meaningless, emotionless hook-ups. Though he's determined to keep his hands off Bailey, he can't resist when she makes it very clear she wants his hands on.
They're on the same sexy page about their relationship—Bailey doesn't have the time, and Mason doesn't have the heart. But when meaningless sex suddenly becomes very meaningful, they find themselves in dangerous emotional waters.
Warning: This book contains a girl with a mad crush, a mad man with a mysterious past, secrets, lies, and shoes.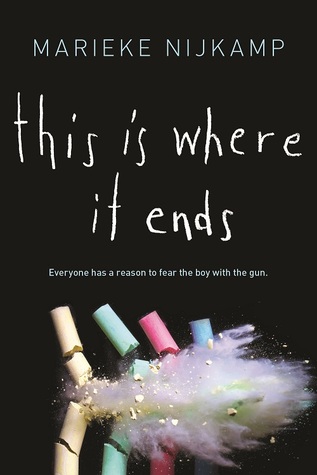 This Is Where It Ends by Marieke Nijkamp (January 5, 2016; Sourcebooks Fire; YA) –
10:00 a.m.
The principal of Opportunity, Alabama's high school finishes her speech, welcoming the entire student body to a new semester and encouraging them to excel and achieve.
10:02 a.m.
The students get up to leave the auditorium for their next class.
10:03
The auditorium doors won't open.
10:05
Someone starts shooting.
Told over the span of 54 harrowing minutes from four different perspectives, terror reigns as one student's calculated revenge turns into the ultimate game of survival.
Best Friends Forever by Kimberla Lawson Roby (January 5, 2016; Grand Central Publishing; Women's Fiction/Inspirational) – Angry arguments between Celine Richardson and Keith, her husband of twelve years, have become common over the past several months. She resents that he's working very long hours and staying out, and he accuses her of not giving him the attention he deserves. The situation turns devastating when Celine is diagnosed with breast cancer and Keith moves out. Even more heartbreaking is how their ten-year-old daughter, Kassie, is affected. Celine's only comfort is her best friend, Lauren, who's there for her every step of the way. Even when Keith decides he's made a mistake, begs forgiveness, and asks to come back home. Now, Celine will be forced to make tough decisions, and for the first time in her life, she wants to give up. Lauren vows to help by any means necessary and makes the kind of sacrifice only a best friend can. But will it be too late?
Off the Clock (Pleasure Principle #1) by Roni Loren (January 5, 2016; Berkley; Erotica) – Marin Rush loves studying sex. Doing it? That's another story. In the research lab, Marin's lack of practical knowledge didn't matter, but now that she's landed a job at The Grove, a high-end, experimental sex therapy institute, she can't ignore the fact that the person most in need of sexual healing may be her.
Dr. Donovan West, her new hotshot colleague, couldn't agree more. Donovan knows that Marin's clients are going to eat her alive unless she gets some hands-on experience. And if she fails at the job, he can say goodbye to a promotion, so he assigns her a list of R-rated tasks to prepare her for the wild clientele of The Grove's X-wing.
But some of those tasks are built for two, and when he finds Marin searching for a candidate to help her check off her list, Donovan decides there's only one man for the job—him. As long as they keep their erotic, off-the-clock activities strictly confidential and without strings, no one will get fired—or worse, get attached…
The Drowning Eyes by Emily Foster (January 12, 2016; Tor.com; Sci-fi/Fantasy) – When the Dragon Ships began to tear through the trade lanes and ravage coastal towns, the hopes of the arichipelago turned to the Windspeakers on Tash. The solemn weather-shapers with their eyes of stone can steal the breeze from raiders' sails and save the islands from their wrath. But the Windspeakers' magic has been stolen, and only their young apprentice Shina can bring their power back and save her people.
Tazir has seen more than her share of storms and pirates in her many years as captain, and she's not much interested in getting involved in the affairs of Windspeakers and Dragon Ships. Shina's caught her eye, but that might not be enough to convince the grizzled sailor to risk her ship, her crew, and her neck.
Zombie Tramp vs. Vampblade by Jason Martin, Dan Mendoza, Winston Young (January 12, 2016; Action Lab Entertainment; Graphic Novel) – In a story too big to contain in the pages of her regular monthly series, fan favorite undead anti-heroine Zombie Tramp goes up against a new larger-then-life supernatural foe Vampblade! Can Zombie Tramp hold her own against this new weapon-wielding dominatrix and her interdimensional vampire enemies, or has she met her sexy/crazy/cool match!?
Sex Criminals, Vol. 3: Three The Hard Way (Sex Criminals) by Matt Fraction and Chip Zdarsky (January 13, 2016; Image Comics; Graphic Novel) – Collecting issues #11-15
Cape Cod Dreams (Love on Rockwell Island #3)  by Bella Andre and Melissa Foster (January 15, 2016; Contemporary Romance) – Love on Rockwell Island is a new contemporary romance series from New York Times and USA Today bestselling authors Bella Andre and Melissa Foster!
Fall in love on Rockwell Island…Sink your toes into the sandy beaches at the heart of Cape Cod Bay, where family comes first, good friends are around every corner, and true love is waiting beneath the stars.
*New books for the 2nd half of January? Let us know here.*