Settled in to 2016 yet? Neither have we. 


Find comfort in new books, and know that you'll eventually stop writing 2015 on everything. It might be 2017 when it happens, but NEW BOOKS!
ICYMI, here's the link for releases from the first half of the month. And submit your February releases here. 
---
Song of Song by L.J. LaBarthe (January 18; Dreamspinner Press; MM/Science Fiction) – It is the year 2275, and though some consider Earth a paradise, for most people on the planet or her outer-world colonies, it's anything but.
Dex is a Boxie—a genetically engineered human created for the sole purpose of caring for wealthy bio-humans. His best and only friend is an AI cat named Manx, a secret Dex keeps from all around him. While he knows little about his sexuality, he's attracted to Song.
Song designs ships that traverse deep space and has created the first fully sentient vessel called Fa'a. When he hears of a plot to capture Fa'a for nefarious purposes, Song flees Earth with a small band of misfits. Meanwhile, Dex's fear of losing Manx drives him to take the cat and escape on a transport.
Song and Dex are brought together by chance. Just as their relationship blossoms from cautious and shy to romantic and erotic, new dangers threaten to destroy not only their love but also Fa'a, their friends, Manx, and all they care about.
Untamed Love by Lindsay Evans (January 19; Harlequin; Kimani) – A winning bid at a silent auction gets Mella Davis more than just complimentary services from landscape architect Victor Raphael. It sparks an instantaneous attraction to the brooding bachelor that takes her completely by surprise. Stern and tightly wound on the surface, irresistibly masculine underneath, he's a challenge to her single-and-loving-it status—and to the heart she's learned to protect. And still, she can't help giving in.
Ever since love burned him in the past, nothing has cracked Victor's calm control. Then he glimpses carefree, vivacious Mella at a Miami charity event. Uninhibited days and sensual nights follow as she brings warmth and desire back to his world, until doubt wrenches them apart. Opposites attract, but can they also overcome their differences…and sow the seeds to thrilling and lasting love?
Feverborn (Fever #8) by Karen Marie Moning (January 19; Delacorte Press; Urban Fantasy) – When the immortal race of the Fae destroyed the ancient wall dividing the worlds of Man and Faery, the very fabric of the universe was damaged and now Earth is vanishing bit by bit. Only the long-lost Song of Making—a haunting, dangerous melody that is the source of all life itself—can save the planet.
But those who seek the mythic Song—Mac, Barrons, Ryodan and Jada—must contend with old wounds and new enemies, passions that burn hot and hunger for vengeance that runs deep. The challenges are many: The Keltar at war with nine immortals who've secretly ruled Dublin for eons, Mac and Jada hunted by the masses, the Seelie queen nowhere to be found, and the most powerful Unseelie prince in all creation determined to rule both Fae and Man. Now the task of solving the ancient riddle of the Song of Making falls to a band of deadly warriors divided among—and within—themselves.
Once a normal city possessing a touch of ancient magic, Dublin is now a treacherously magical city with only a touch of normal. And in those war-torn streets, Mac will come face to face with her most savage enemy yet: herself.
Passion's Song by Farrah Rochon (January 19; Harlequin Kimani; Romance) – A desire they never imagined… New Orleans has always been a musical city, and April Knight quickly fell under its spell. Despite the challenges of poverty and disillusionment, April defied everyone to realize her dream of becoming a celebrated cellist. Buoyed by her success, she's returned to the Ninth Ward to share her encouragement and enthusiasm with the local youth, unaware of a new passion that awaits.
Years ago, Damien Alexander encouraged April to follow her ambitions, even as he followed his own. Now he has the opportunity to revitalize his old neighborhood, and he needs April's grace and charm to woo investors. Instead of the platonic arrangement they expected, a swift and intense spark of attraction suddenly changes the dynamic of their relationship. Will they be able to help their community and answer the sweet, sweet melody of love?
Confucius Jane: A Novel by Katie Lynch (January 19; Forge Books; Women's Fiction) – On leave from college, Jane Morrow has a new job, helping out in her uncle's fortune cookie factory, and a new roommate—her precocious 11-year-old cousin. Though surrounded by her loving family and their close-knit Chinatown community, Jane feels like a colossal failure. Writing fortunes is a kind of poetry, but Jane is penning words of wisdom for strangers while wondering if she will ever have the guts to move on with her life.
When Jane meets medical student Sutton St. James at her local noodle shop, sparks fly. Sutton stands at a career crossroads: surgical residency or stem cell research overseas? The first is what her father, former Surgeon General and "America's doctor," has planned for her, but the latter might help find a cure for her mother's debilitating MS. Neither would make either of them comfortable with their daughter's sexuality. Sutton's only certainty is that she has no time for a relationship—yet neither she nor Jane can deny the chemistry between them.
Jane opens a whole new view of family to Sutton, a powerful counter to Sutton's cold, sterile upbringing. Sutton inspires Jane to be more ambitious and to dream again—and challenges her to have faith in herself. But can Sutton and Jane overcome a scandalous secret that threatens to keep them apart?
A Painted Goddess (A Fire Beneath the Skin #3) by Victor Gischler (January 19; 47North; YA/Epic Fantasy) – When the gods go to war, who will stand against their divine fury?
In the thrilling conclusion to the A Fire Beneath the Skin trilogy, the enchanted kingdom of Helva faces a nightmarish future of endless bloodshed, and Rina Veraiin—a young warrior-duchess armed with mysterious, magical tattoos—must use her fantastic powers to save her home from eternal war.
As her far-flung friends scour Helva for additional tattoos to increase her formidable abilities, Rina reckons with an enigmatic death priest…the one whose contract grants her extraordinary magic but demands an awful price. When her debt comes due, can Rina make the ultimate sacrifice?
Deities clash and allies succumb as Rina strives to fulfill her obligation and confront her strange and shocking destiny. Becoming an ink mage taxed Rina's resources to their very limits; now she must become something else, something more, something awesome and terrible.
If she fails, her world will fall.
Surrender at Sunset by Jamie Pope (January 19; Harlequin Kimani; Romance) – Ever since enduring a possibly career-ending injury, Miami superstar shortstop Carlos Bradley has retreated from the world. His life undergoes a radical makeover when he's convinced to hire a designer to restore his secluded island mansion to its former glory. Completely different from the women Carlos has known, interior decorator Virginia Andersen captivates him with her infectious spirit and the sensuality beneath her coolly professional demeanor.
The owner of a struggling design firm, Virginia can't believe her new employer is a baseball legend. But Carlos wants more than just her expertise. And when he insists she move into his tropical getaway during the renovations, Virginia soon finds herself sharing the irresistible playboy's bed. But when the media descends, she's thrust into the limelight and her past becomes an open book. Is she ready to overcome her doubts to fight for a future with the man of her dreams?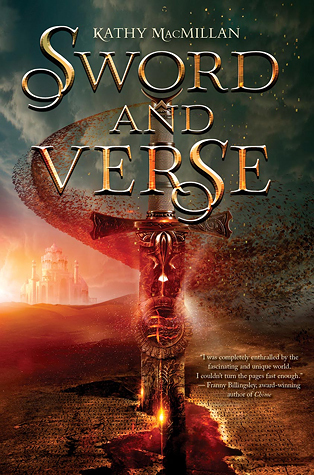 Sword and Verse (Sword and Verse #1) by Kathy MacMillan (January 19; HarperTeen; YA/High Fantasy) – Raisa was just a child when she was sold to work as a slave in the kingdom of Qilara. Despite her young age, her father was teaching her to read and write, grooming her to take his place as a Learned One. In Qilara, the Arnathim, like Raisa, are the lowest class, and literacy is a capital offense. What's more, only the king, prince, tutor, and tutor-in-training are allowed to learn the very highest order language, the language of the gods. So when the tutor-in-training is executed for teaching slaves this sacred language, and Raisa is selected to replace her, Raisa knows any slipup on her part could mean death.
Keeping her secret is hard enough, but the romance that's been growing between her and Prince Mati isn't helping matters. Then Raisa is approached by the Resistance—an underground army of slave rebels—to help liberate Arnath slaves. She wants to free her people, but that would mean aiding a war against Mati. As Raisa struggles with what to do, she discovers a secret that the Qilarites have been hiding for centuries—one that, if uncovered, could bring the kingdom to its knees.
Seducing the Heiress by Martha Kennerson (January 19; Harlequin Kimani; Romance) – Marry in haste, seduce at leisure
Friends who flirt—that's corporate attorney Farrah Blake and high-tech security expert Robert Gold. Farrah, second of the wealthy Blake triplets, has no intention of acting on her attraction to the notorious bachelor. Until a business trip to Sin City turns into a wild and wanton weekend that leaves her with an unforgettable souvenir: a wedding ring!
Robert has made his share of romantic mistakes, but marrying the gorgeous, no-nonsense Farrah isn't one of them. Though he reluctantly agrees to her divorce request, he's hoping to change her mind. Trouble is, he'll have to deceive her in order to do it. And though all's fair in love and Vegas, gambling with the truth could cost Robert a love he's willing to stake his heart on…
City of Blades (The Divine Cities #2) by Robert Jackson Bennett (January 26, 2016; Broadway Books; Urban Fantasy) – The city of Voortyashtan was once the domain of the goddess of death, war, and destruction, but now it's little more than a ruin. General Turyin Mulaghesh is called out of retirement and sent to this hellish place to try to find a Saypuri secret agent who's gone missing in the middle of a mission, but the city of war offers countless threats: not only have the ghosts of her own past battles followed her here, but she soon finds herself wondering what happened to all the souls that were trapped in the afterlife when the Divinities vanished. Do the dead sleep soundly in the land of death? Or do they have plans of their own?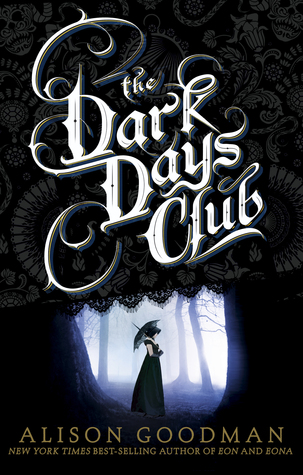 The Dark Days Club (Lady Helen #1) by Alison Goodman (January 26; Viking Books for Young Readers; YA Historical Paranormal) –  London, April 1812. On the eve of eighteen-year-old Lady Helen Wrexhall's presentation to the queen, one of her family's housemaids disappears-and Helen is drawn into the shadows of Regency London. There, she meets Lord Carlston, one of the few who can stop the perpetrators: a cabal of demons infiltrating every level of society. Dare she ask for his help, when his reputation is almost as black as his lingering eyes? And will her intelligence and headstrong curiosity wind up leading them into a death trap?
Forbidden by Beverly Jenkins (January 26; Avon; Historical Romance) – Rhine Fontaine is building the successful life he's always dreamed of—one that depends upon him passing for White. But for the first time in years, he wishes he could step out from behind the façade. The reason: Eddy Carmichael, the young woman he rescued in the desert. Outspoken, defiant, and beautiful, Eddy tempts Rhine in ways that could cost him everything . . . and the price seems worth paying.
Eddy owes her life to Rhine, but she won't risk her heart for him. As soon as she's saved enough money from her cooking, she'll leave this Nevada town and move to California. No matter how handsome he is, no matter how fiery the heat between them, Rhine will never be hers. Giving in for just one night might quench this longing. Or it might ignite an affair as reckless and irresistible as it is forbidden . . .