---
3 out of 5 stars   ★★★☆☆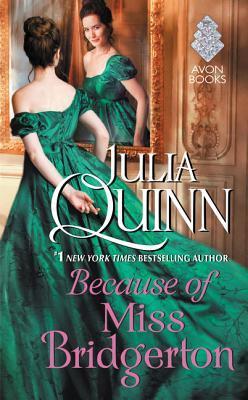 Synopsis: 
Sometimes you find love in the most unexpected of places… This is not one of those times.

Everyone expects Billie Bridgerton to marry one of the Rokesby brothers. The two families have been neighbors for centuries, and as a child the tomboyish Billie ran wild with Edward and Andrew. Either one would make a perfect husband… someday.

Sometimes you fall in love with exactly the person you think you should… Or not.

There is only one Rokesby Billie absolutely cannot tolerate, and that is George. He may be the eldest and heir to the earldom, but he's arrogant, annoying, and she's absolutely certain he detests her. Which is perfectly convenient, as she can't stand the sight of him, either.

But sometimes fate has a wicked sense of humor…

Because when Billie and George are quite literally thrown together, a whole new sort of sparks begins to fly. And when these lifelong adversaries finally kiss, they just might discover that the one person they can't abide is the one person they can't live without…
---
Julia Quinn is probably best known for her series on the Bridgerton's, eight siblings and their romantic entanglements, but in Because of Miss Bridgerton, readers get a look at Edmund's older sister, Sybilla "Billie" Bridgerton, and how she and George Rokesby came to fall in love. The Rokesby's are neighbors to the Bridgerton's, and George is set to inherit the land, while his younger brothers, Edward and Andrew, are out in the army serving their country. This was my first Julia Quinn book, but I would be happy to read her others!
Billie is an instantly relatable character, stubborn and smart. She learned how to manage her father's land while her younger brother Edmund is away at school. She knows that she will not be able to continue her work when Edmund returns and must find a husband. Billie and George never got along during their childhoods, Billie preferring the company of Edward, Andrew, and their sister, Mary. During the course of the book, the more they get to know one another, the more they understand why the other acts a certain way and form a bond (also helps that George is a gentleman and offers to carry Billie everywhere since she has a sprained ankle!).
I like the hesitation each of them has with the other. Not sure if it's okay to like someone they have known, but not really known their entire lives. Since George is around Billie's home more often, their shared interests overlap and Billie sees him as more than just a stiff. Alternatively, George sees Billie as more than just a person willing to do anything for attention.
The end seemed a bit strange, I didn't know what to think of George and his "task," plus how he acted when he and Billie were at the dance together. He didn't really offer an explanation for it. But I'm always satisfied with a happy ever after and I'm glad Billie is still able to run the lands of her father and help George for the Rokesby's estate. Recommend this for anyone looking for an entry to Julia Quinn's novels, lovers of historical romance, or anyone looking for a quick and fun read.