A Bouquet for Adam by A.J. Marcus, K.T. Spence (M/M Romance; Dreamspinner Press; June 17) Adam Stephens's simple life working in Denver as a computer programmer is turned upside down when his mother suddenly dies. His crazy relatives in Virginia want him to move in with them because they believe his autism makes it impossible for him to care for himself. But life improves, at least for a time. One day while wandering through the botanical gardens, he runs into struggling wildlife photographer Trent Osborn. As a hesitant love blossoms between the two, Adam's aunt and uncle push for him to live with them. Adam again refuses. The struggles between his desires and what everyone else wants collide. Adam disappears, and Trent is unsure if he's run off to escape life's pressures made worse by his autism, or if something far more sinister has happened. Trent embarks on a cross-country journey in search of Adam. What he discovers changes the course of his and Adam's lives and the lives of everyone connected to them.
Never Ever by Sara Saedi (Young Adult Fantasy; Viking Books for Young Readers; June 21) When Wylie encounters Phinn—confident, mature, and devastatingly handsome—at a party the night before her brother goes to juvie, she can't believe how fast she falls for him. And that's before he shows her how to fly. Soon Wylie and her brothers find themselves whisked away to a mysterious tropical island off the coast of New York City where nobody ages beyond seventeen and life is a constant party. Wylie's in heaven: now her brother won't go to jail and she can escape her over-scheduled life with all its woes and responsibilities—permanently. But the deeper Wylie falls for Phinn, the more she begins to discover has been kept from her and her brothers. Somebody on the island has been lying to her, but the truth can't stay hidden forever.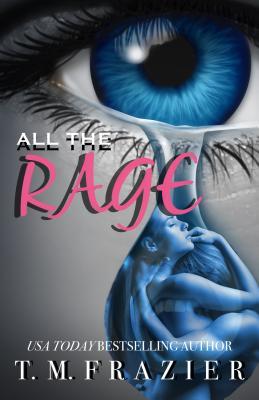 All the Rage by T.M. Frazier (Romance; Everafter Romance; June 21) They call me Rage. My real name is like a shadow, always close behind, but never quite able to catch up. I fly under the radar because no one ever suspects I m capable of the kind of brutal violence I commit each and every day.  You see, I m a girl. I m nineteen. And I'm a killer.  This life is all I know. It s all I want to know. It keeps the s**t buried that I need kept buried. It allows me to live without thinking too much. Without dwelling on the past. Until him.  It all changes when an ordinary boy becomes my next target.  And my first love. I have to choose. The only life I've ever known has to die, or he does. Either way, I'll be the one pulling the trigger…
In the Shadow of the Gods (Bound Gods #1) by Rachel Dunne (Epic Fantasy; Harper Voyager; June 21) Eons ago, a pair of gods known as the "Twins" grew powerful in the world of Fiatera, until the Divine Mother and Almighty Father exiled them, binding them deep in the earth. But the price of keeping the fire-lands safe is steep. To prevent these young gods from rising again, all twins in the land must be killed at birth, a safeguard that has worked, until now. Trapped for centuries, the Twins are gathering their latent powers to break free and destroy the Parents for their tyranny—a fight between two generations of gods for control of the world and the mortals who dwell in it. When the gods make war, only one side can be victorious. Joros, a mysterious and cunning priest, has devised a dangerous plan to win. Over eight years, he gathers a team of disparate fighters—Scal, a lost and damaged swordsman from the North; Vatri, a scarred priestess who claims to see the future in her fires; Anddyr, a drug-addled mage wandering between sanity and madness; and Rora and Aro, a pair of twins who have secretly survived beyond the reach of the law. These warriors must learn to stand together against the unfathomable power of vengeful gods, to stop them from tearing down the sun . . . and plunging their world into darkness.
Mirror in the Sky by Aditi Khorana (YA Sci-fi; Razorbill; June 21) For Tara Krishnan, navigating Brierly, the academically rigorous prep school she attends on scholarship, feels overwhelming and impossible. Her junior year begins in the wake of a startling discovery: A message from an alternate Earth, light years away, is intercepted by NASA. This means that on another planet, there is another version of Tara, a Tara who could be living better, burning brighter, because of tiny differences in her choices.  The world lights up with the knowledge of Terra Nova, the mirror planet, and Tara's life on Earth begins to change. At first, small shifts happen, like attention from Nick Osterman, the most popular guy at Brierly, and her mother playing hooky from work to watch the news all day. But eventually those small shifts swell, the discovery of Terra Nova like a black hole, bending all the light around it. As a new era of scientific history dawns and Tara's life at Brierly continues its orbit, only one thing is clear: Nothing on Earth–or for Tara–will ever be the same again.
The Innocent and the Outlaw by Harper St. George (Historical Romance; Harlequin; June 21) The stepdaughter of a bank robber, innocent barmaid Emmaline Drake knows Hunter Jameson is trouble the second he walks into her saloon. Though his gaze holds her captive, she vows to keep her distance. When Hunter kidnaps Emmaline to retaliate against her stepfather, she escapes to the brothel where she was born. In desperation, she auctions off her virginity… But when she looks out into the gathered crowd of men, there's only one she sees. Hunter has tracked her down and is about to place his bid for her…!
Missing, Presumed by Susie Steiner (Mystery/Thriller, Random House, June 28) At thirty-nine, Manon Bradshaw is a devoted and respected member of the Cambridgeshire police force, and though she loves her job, what she longs for is a personal life. Single and distant from her family, she wants a husband and children of her own. One night, after yet another disastrous Internet date, she turns on her police radio to help herself fall asleep—and receives an alert that sends her to a puzzling crime scene. Edith Hind—a beautiful graduate student at Cambridge University and daughter of the surgeon to the Royal Family—has been reported missing for nearly twenty-four hours. Her home offers few clues: a smattering of blood in the kitchen, her keys and phone left behind, the front door ajar but showing no signs of forced entry. Manon instantly knows this case will be big—and that every second is crucial to finding Edith alive. The investigation starts with Edith's loved ones: her attentive boyfriend, her reserved best friend, and her patrician parents. As the search widens and press coverage reaches a frenzied pitch, secrets begin to emerge about Edith's tangled love life and her erratic behavior leading up to her disappearance. With no clear leads, Manon summons every last bit of her skill and intuition to close the case, and what she discovers will have shocking consequences not just for Edith's family, but for Manon herself. Suspenseful and keenly observed, Missing, Presumed is a brilliantly twisting novel of how we seek connection, grant forgiveness, and reveal the truth about who we are.
Sweet Little Lies (Heartbreaker Bay #1) by Jill Shalvis (Romance; Avon; June 28) Choose the one guy you can't have… As captain of a San Francisco Bay tour boat, Pru can handle rough seas—the hard part is life on dry land. Pru loves her new apartment and her neighbors; problem is, she's in danger of stumbling into love with Mr. Right for Anybody But Her. Fall for him—hard… Pub owner Finn O'Riley is six-foot-plus of hard-working hottie who always makes time for his friends. When Pru becomes one of them, she discovers how amazing it feels to be on the receiving end of that deep green gaze. But when a freak accident involving darts (don't ask) leads to shirtless first aid, things rush way past the friend zone. Fast. And then tell him the truth. Pru only wants Finn to be happy; it's what she wishes for at the historic fountain that's supposed to grant her heart's desire. But wanting him for herself is a different story—because Pru's been keeping a secret that could change everything…
The Dark Side by Anthony O'Neill (Sci-fi Noir; Simon & Schuster; June 28) In this dark and gripping sci-fi noir, an exiled police detective arrives at a lunar penal colony just as a psychotic android begins a murderous odyssey across the far side of the moon. Purgatory is the lawless moon colony of eccentric billionaire, Fletcher Brass: a mecca for war criminals, murderers, sex fiends, and adventurous tourists. You can't find better drugs, cheaper plastic surgery, or a more ominous travel advisory anywhere in the universe. But trouble is brewing in Brass's black-market heaven. When an exiled cop arrives in this wild new frontier, he immediately finds himself investigating a string of ruthless assassinations in which Brass himself—and his equally ambitious daughter—are the chief suspects. Meanwhile, two-thousand kilometers away, an amnesiac android, Leonardo Black, rampages across the lunar surface. Programmed with only the notorious "Brass Code"—a compendium of corporate laws that would make Ayn Rand blush—Black has only one goal in mind: to find Purgatory and conquer it.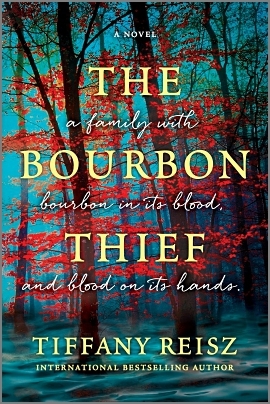 The Bourbon Thief by Tiffany Reisz (Romance; Mira Books; June 28) When Cooper McQueen wakes up from a night with a beautiful stranger, it's to discover he's been robbed. The only item stolen—a million-dollar bottle of bourbon. The thief, a mysterious woman named Paris, claims the bottle is rightfully hers. After all, the label itself says it's property of the Maddox family who owned and operated Red Thread Bourbon distillery since the last days of the Civil War until the company went out of business for reasons no one knows… No one except Paris. In the small hours of a Louisville morning, Paris unspools the lurid tale of Tamara Maddox, heiress to the distillery that became an empire. But the family tree is rooted in tainted soil and has borne rotten fruit. Theirs is a legacy of wealth and power, but also of lies, secrets and sins of omission. The Maddoxes have bourbon in their blood—and blood in their bourbon. Why Paris wants the bottle of Red Thread remains a secret until the truth of her identity is at last revealed, and the century-old vengeance Tamara vowed against her family can finally be completed.
The Big Sheep by Robert Kroese (Sci-fi; Thomas Dunne Books; June 28) Los Angeles of 2039 is a baffling and bifurcated place. After the Collapse of 2028, a vast section of LA, the Disincorporated Zone, was disowned by the civil authorities, and became essentially a third world country within the borders of the city. Navigating the boundaries between DZ and LA proper is a tricky task, and there's no one better suited than eccentric private investigator Erasmus Keane. When a valuable genetically altered sheep mysteriously goes missing from Esper Corporation's labs, Keane is the one they call. But while the erratic Keane and his more grounded partner, Blake Fowler, are on the trail of the lost sheep, they land an even bigger case. Beautiful television star Priya Mistry suspects that someone is trying to kill her – and she wants Keane to find out who. When Priya vanishes and then reappears with no memory of having hired them, Keane and Fowler realize something very strange is going on. As they unravel the threads of the mystery, it soon becomes clear that the two cases are connected – and both point to a sinister conspiracy involving the most powerful people in the city. Saving Priya and the sheep will take all of Keane's wits and Fowler's skills, but in the end, they may discover that some secrets are better left hidden.
Full Tilt (Full Tilt #1) by Emma Scott (Romance; June 28) Kacey Dawson has always lived life on the edge–impulsively, sometimes recklessly. And now, as lead guitarist for a hot up-and-coming band, she is poised at the brink of fame and fortune. But she is torn between wanting to be a serious musician, and the demons that lure her down the glittering, but alcohol-soaked path of rock stardom. A wrecked concert in Las Vegas threatens to ruin her career entirely. She wakes up with the hangover from hell and no memory of the night before, or how she ended up on her limo driver's couch… Jonah Fletcher is running out of time. He knows his situation is hopeless, and he's vowed to make the most of the handful of months he has left to him. His plans include seeing the opening of his glass installation at a prestigious art gallery…they do not include falling in love with a wild, tempestuous rock musician who wound up passed out on his couch.  Jonah sees that Kacey is on a path to self-destruction. He lets her crash with him for a few days to dry out and get her head on straight. But neither of them expected the deep connection they felt, or how that connection could grow so fast from friendship into something more. Something deep and pure and life-changing…something as fragile as glass, that they both know will shatter in the end no matter how hard they try to hold on to it.
Patsy Walker, A.K.A. Hellcat! Vol. 1 (Compilations) #1-5 by Kate Leth, Brittney Williams (Illustrations) (Graphic Novel; Marvel; June 28) Patsy Walker has managed to escape her past, her enemies and Hell itself (literally) – but nothing compares to job hunting in New York City! Between trying to make rent and dodging bullets, Patsy barely has time to deal with her mother's exploitative romance comics about Patsy's past resurfacing, much less how they start to interfere with her work and dating life. As she goes from living a double life to a triple, what the hell is Patsy Walker supposed to do? There'll be friendship and burgers, monsters and rent checks and a ghost from the past with questionable motives! Comics' most flexible heroine has been a provisional Avenger, a Defender, Satan's daughter-in-law and a dead woman -but she's never been anything like this!
Once a Soldier (Rogues Redeemed #1) by Mary Jo Putney (Historical Romance; Zebra; June 28) As heir to a title and great wealth, Will Masterson should have stayed home and tended his responsibilities. Instead he went to war. Now, after perilous years fighting the French, he intends his current mission to be his last. But all his plans are forgotten when he arrives in the small mountain stronghold of San Gabriel and meets her. Knowing herself to be too tall, strong, and unconventional to appeal to a man, Athena Markham has always gloried in her independence. But for the first time in her life, she finds a man who might be her match.  Two of a kind, too brave for their own good, Athena and Will vow to do whatever it takes to vanquish San Gabriel's enemies. For neither will back down from death, and only together can they find happiness and a love deeper than any they'd dared imagine…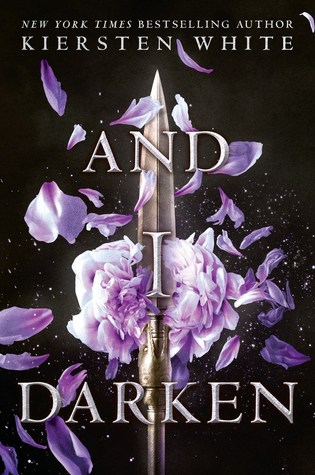 And I Darken (The Conquerors Saga #1) by Kiersten White (Young Adult Fantasy; Delacorte Press; June 28) And Lada Dragwlya likes it that way. Ever since she and her gentle younger brother, Radu, were wrenched from their homeland of Wallachia and abandoned by their father to be raised in the Ottoman courts, Lada has known that being ruthless is the key to survival. She and Radu are doomed to act as pawns in a vicious game, an unseen sword hovering over their every move. For the lineage that makes them special also makes them targets. Lada despises the Ottomans and bides her time, planning her vengeance for the day when she can return to Wallachia and claim her birthright. Radu longs only for a place where he feels safe. And when they meet Mehmed, the defiant and lonely son of the sultan, who's expected to rule a nation, Radu feels that he's made a true friend—and Lada wonders if she's finally found someone worthy of her passion. But Mehmed is heir to the very empire that Lada has sworn to fight against—and that Radu now considers home. Together, Lada, Radu, and Mehmed form a toxic triangle that strains the bonds of love and loyalty to the breaking point.
Magic Bitter, Magic Sweet by Charlie N. Holmberg (Fantasy; 47North; June 28) Maire is a baker with an extraordinary gift: she can infuse her treats with emotions and abilities, which are then passed on to those who eat them. She doesn't know why she can do this and remembers nothing of who she is or where she came from. When marauders raid her town, Maire is captured and sold to the eccentric Allemas, who enslaves her and demands that she produce sinister confections, including a witch's gingerbread cottage, a living cookie boy, and size-altering cakes. During her captivity, Maire is visited by Fyel, a ghostly being who is reluctant to reveal his connection to her. The more often they meet, the more her memories return, and she begins to piece together who and what she really is—as well as past mistakes that yield cosmic consequences.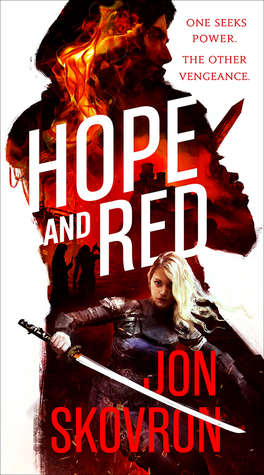 Hope and Red (Empire of Storms Trilogy #1) by Jon Skovron (Fantasy; Orbit; June 28) In a fracturing empire spread across savage seas, two young people from different cultures find common purpose. A nameless girl is the lone survivor when her village is massacred by biomancers, mystical servants of the emperor. Named after her lost village, Bleak Hope is secretly trained by a master Vinchen warrior as an instrument of vengeance. A boy becomes an orphan on the squalid streets of New Laven and is adopted by one of the most notorious women of the criminal underworld, given the name Red, and trained as a thief and con artist. When a ganglord named Deadface Drem strikes a bargain with the biomancers to consolidate and rule all the slums of New Laven, the worlds of Hope and Red come crashing together, and their unlikely alliance takes them further than either could have dreamed possible.