It's finally beach read season! Grab one of these news books and some sun.
---
Return to Passion by Carla Buchanan (July 1; Contemporary Romance; Harlequin/Kimani Romance) – Lovers at long last? Behind her good-girl facade, Camille Ryan harbored a secret desire to write erotic romances. When one of her racy stories fell into the wrong hands, she had no choice but to flee her Bible-thumping Georgia town. Now her father's unexpected health scare turns her world upside down and brings the pseudonymous author back home to Fairdell—and to the man she sacrificed her happiness to protect.
Remington Krane never got over losing Camille. When he shows up on her doorstep demanding answers, desire once again ignites, culminating in a night of passion they've waited years to fulfill. Camille fears the scandalous truth could ruin the business scion's mayoral bid. But when another woman orchestrates a campaign that could sabotage his second chance with Camille, it's Remi's turn to give up everything—except the woman he loves.
For the Love of You  (The Lawsons of Louisiana) by Donna Hill (July 1; Contemporary Romance; Harlequin/Kimani Romance) – He has never found the right woman…until now
Craig Lawson is the hottest filmmaker in Hollywood—a man who has won every award and can have any woman he wants. Now he's ready to produce his masterpiece. But it means returning to his Louisiana roots and the real estate dynasty he walked away from almost a decade ago. In the French Quarter, he finds a historic house that is perfect for his project…and the unconventional owner is a beauty of fascinating contradictions.
Jewel Fontaine had her reasons for disappearing from the local art scene five years ago. And this reclusive sculptress isn't about to let the famous playboy director turn his cameras on her private life. Until he awakens her hidden desires. If she gives in to his passion, will he uncover the secret she's been so desperately hiding? Or will Craig's own unresolved issues from the past sabotage any chance for a happy future together?
Love and a Latte (The Draysons: Sprinkled with Love) by Jamie Pope (July 1; Contemporary Romance; Harlequin/Kimani Romane) – Can true love really be this sweet? Getting the West Coast location of his family's celebrated patisserie off the ground is a full-time job for Chase Drayson. The driven corporate accountant doesn't have time for pleasure. Until the bakery's beautiful barista places a steaming latte in front of him. Avant-garde jewelry maker Amber Bernard is the wrong choice for anything long-term. So why is Chase fantasizing about forever with his eclectic employee?
There's more to life than the bottom line. But the seriously sexy number cruncher is her boss, and Amber isn't ready to risk her professional future. Or be tied down. She's committed to her art, not romantic dreams…even if the passion sizzling between them makes her believe they're not as different as they think. Could an incredible leap of faith lead to a lifelong love?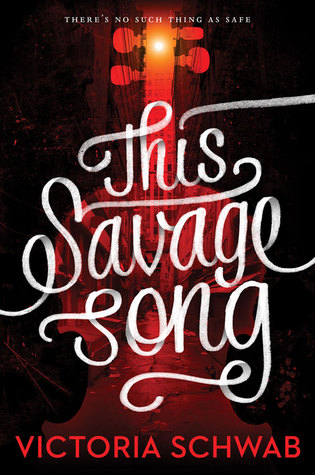 The Savage Song (Monsters of Verity #1) by Victoria Schwab (July 5; YA/Paranormal/Dystopian; Greenwillow Books) – There's no such thing as safe in a city at war, a city overrun with monsters. In this dark urban fantasy from author Victoria Schwab, a young woman and a young man must choose whether to become heroes or villains—and friends or enemies—with the future of their home at stake. The first of two books.
Kate Harker and August Flynn are the heirs to a divided city—a city where the violence has begun to breed actual monsters. All Kate wants is to be as ruthless as her father, who lets the monsters roam free and makes the humans pay for his protection. All August wants is to be human, as good-hearted as his own father, to play a bigger role in protecting the innocent—but he's one of the monsters. One who can steal a soul with a simple strain of music. When the chance arises to keep an eye on Kate, who's just been kicked out of her sixth boarding school and returned home, August jumps at it. But Kate discovers August's secret, and after a failed assassination attempt the pair must flee for their lives.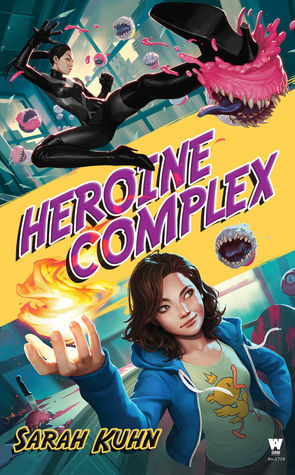 Heroine Complex by Sarah Kuhn (July 5; Graphic Novel/Urban Fantasy; DAW) – Being a superheroine is hard. Working for one is even harder.
Evie Tanaka is the put-upon personal assistant to Aveda Jupiter, her childhood best friend and San Francisco's most beloved superheroine. She's great at her job—blending into the background, handling her boss's epic diva tantrums, and getting demon blood out of leather pants.
Unfortunately, she's not nearly as together when it comes to running her own life, standing up for herself, or raising her tempestuous teenage sister, Bea.
But everything changes when Evie's forced to pose as her glamorous boss for one night, and her darkest comes out: she has powers, too. Now it's up to her to contend with murderous cupcakes, nosy gossip bloggers, and supernatural karaoke battles—all while juggling unexpected romance and Aveda's increasingly outrageous demands. And when a larger threat emerges, Evie must finally take charge and become a superheroine in her own right… or see her city fall to a full-on demonic invasion.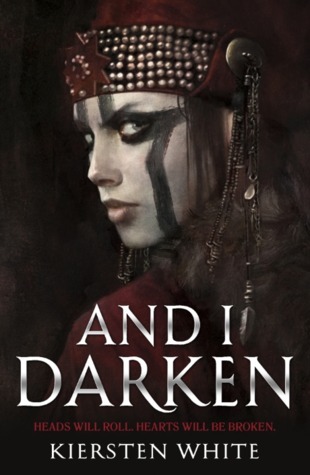 And I Darken (The Conquerors Saga #1) by Kiersten White (July 7; YA/Fantasy/Historical Fiction; Corgi Childrens) – No one expects a princess to be brutal. And Lada Dragwyla likes it that way.
Ever since she and her brother were abandoned by their father to be raised in the Ottoman sultan's courts, Lada has known that ruthlessness is the key to survival. For the lineage that makes her and her brother special also makes them targets.
Lada hones her skills as a warrior as she nurtures plans to wreak revenge on the empire that holds her captive. Then she and Radu meet the sultan's son, Mehmed, and everything changes. Now Mehmed unwittingly stands between Lada and Radu as they transform from siblings to rivals, and the ties of love and loyalty that bind them together are stretched to breaking point.
The first of an epic new trilogy starring the ultimate anti-princess who does not have a gentle heart. Lada knows how to wield a sword, and she'll stop at nothing to keep herself and her brother alive.
Underground Airlines by Ben H. Winters (July 5; SFF/Speculative Fiction/Alternate History; Mulholland Books) – It is the present-day, and the world is as we know it: smartphones, social networking and Happy Meals. Save for one thing: the Civil War never occurred.
A gifted young black man calling himself Victor has struck a bargain with federal law enforcement, working as a bounty hunter for the US Marshall Service. He's got plenty of work. In this version of America, slavery continues in four states called "the Hard Four." On the trail of a runaway known as Jackdaw, Victor arrives in Indianapolis knowing that something isn't right–with the case file, with his work, and with the country itself.
A mystery to himself, Victor suppresses his memories of his childhood on a plantation, and works to infiltrate the local cell of a abolitionist movement called the Underground Airlines. Tracking Jackdaw through the back rooms of churches, empty parking garages, hotels, and medical offices, Victor believes he's hot on the trail. But his strange, increasingly uncanny pursuit is complicated by a boss who won't reveal the extraordinary stakes of Jackdaw's case, as well as by a heartbreaking young woman and her child who may be Victor's salvation. Victor himself may be the biggest obstacle of all–though his true self remains buried, it threatens to surface.
Victor believes himself to be a good man doing bad work, unwilling to give up the freedom he has worked so hard to earn. But in pursuing Jackdaw, Victor discovers secrets at the core of the country's arrangement with the Hard Four, secrets the government will preserve at any cost.
Underground Airlines is a ground-breaking novel, a wickedly imaginative thriller, and a story of an America that is more like our own than we'd like to believe.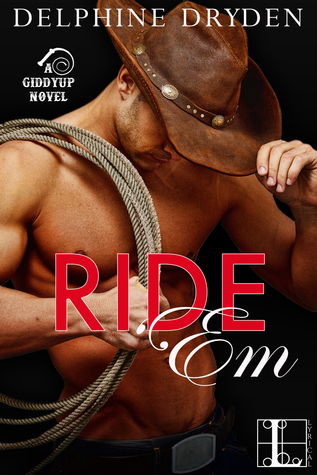 Ride 'Em by Delphine Dryden (July 5; Contemporary Romance; Kensington Publishing) – SADDLE UP
Mindy has come to Logan's dude ranch to convince him to sign away his land's mineral rights to her stepfather. She doesn't want to beg, but she will if she has to, like she does Friday nights when she submits to her master's desire . . .
BUCKLE DOWN
Logan doesn't like to be jerked around, in business or pleasure. And when he learns what Mindy is up to, he's ready to teach her a lesson. In fact, he'd like to tie her up, strip her down, and give her a spanking she'll never forget . . .
RIDE HARD
With passion riding high, Logan and Mindy indulge in carnal play that leaves them both wanting more. And with their jobs on the line, they realize that their erotic fantasies might be their ticket to success.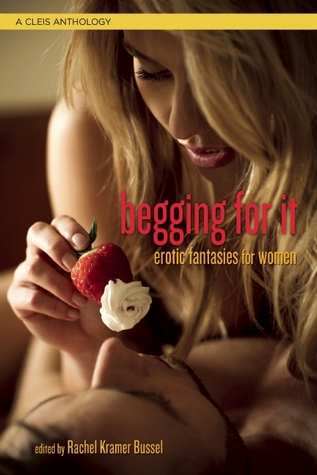 Begging For It: Female Fantasy Erotica by Rachel Kramer Bussel (July 12; Erotica; Cleis Press) – What would you give — or give up — to fulfill your most cherished sex fantasy? In this Cleis Press collection, erotica editor Rachel Kramer Bussel brings us femme fatales and shy women, women on a mission and women opening up to new worlds of discovery: women who know what they want and are not afraid to beg for it! Let yourself go with these 21 tantalizing tales of tortuous longing and release.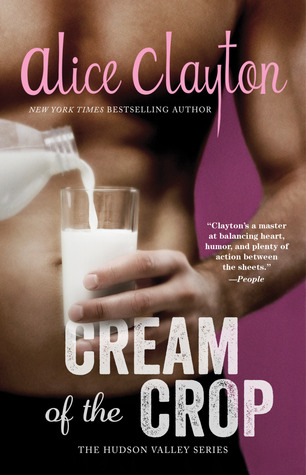 Cream of the Crop (Hudson Valley #2) by Alice Clayton (July 12; Contemporary/New Adult; Gallery Books) – New York Times and USA TODAY bestselling author Alice Clayton brings her trademark blend of funny and sexy to this second contemporary romance in the brand-new Hudson Valley series!
Manhattan's It Girl, Natalie Grayson, has it all: she's a hot exec at a leading advertising firm, known industry-wide for her challenging and edgy campaigns. She's got a large circle of friends, a family that loves her dearly, and her dance card is always full with handsome eligible bachelors. What else could a modern gal-about-town wish for? The answer, of course, is…cheese.
Natalie's favorite part of each week is spending Saturday morning at the Union Square Farmer's Market, where she indulges her love of all things triple cream. Her favorite booth also indulges her love of all things handsome. Oscar Mendoza, owner of the Bailey Falls Creamery and purveyor of the finest artisanal cheeses the Hudson Valley has to offer, is tall, dark, mysterious, and a bit oblivious. Or so she thinks. But that doesn't stop Natalie from fantasizing about the size of his, ahem, milk can.
Romance is churning, passion is burning, and something incredible is rising to the top. Could it be…love?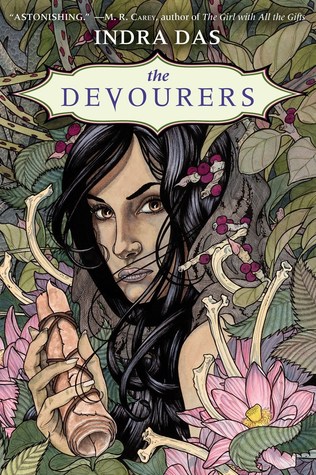 The Devourers by Indra Das (July 12; SFF/Horror; Del Rey) – On a cool evening in Kolkata, India, beneath a full moon, as the whirling rhythms of traveling musicians fill the night, college professor Alok encounters a mysterious stranger with a bizarre confession and an extraordinary story. Tantalized by the man's unfinished tale, Alok will do anything to hear its completion. So Alok agrees, at the stranger's behest, to transcribe a collection of battered notebooks, weathered parchments, and once-living skins.
From these documents spills the chronicle of a race of people at once more than human yet kin to beasts, ruled by instincts and desires blood-deep and ages-old. The tale features a rough wanderer in seventeenth-century Mughal India who finds himself irrevocably drawn to a defiant woman—and destined to be torn asunder by two clashing worlds. With every passing chapter of beauty and brutality, Alok's interest in the stranger grows and evolves into something darker and more urgent.
Shifting dreamlike between present and past with intoxicating language, visceral action, compelling characters, and stark emotion, The Devourers offers a reading experience quite unlike any other novel.