September new releases, part 2!
---
Second by Chantal Fernando (Sept. 20th; NA/Romance) – The first time he saw me fall was in pain.
The second was in love–with him.
It wasn't meant to happen.
But he was there for me.
A bad boy I had nothing in common with.
He was trouble.
And he saved me.
But as secrets have their way of unraveling, truth came to light.
It always does.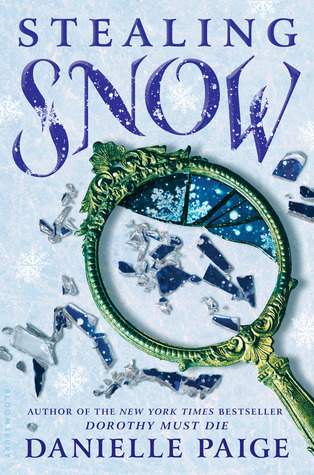 Stealing Snow (Stealing Snow #1) by Danielle Paige (Sept. 20th; Fantasy/YA/Fairy Tales; Bloomsbury Children USA) – Seventeen-year-old Snow has spent the majority of her life within the walls of the Whittaker Institute, a high security mental hospital in upstate New York. Deep down, she knows she's not crazy and doesn't belong there. When she meets a mysterious, handsome new orderly and dreams about a strange twisted tree she realizes she must escape and figure out who she really is.
Using her trusting friend Bale as a distraction, Snow breaks free and races into the nearby woods. Suddenly, everything isn't what it seems, the line between reality and fantasy begins to blur, and she finds herself in icy Algid–her true home–with witches, thieves, and a strangely alluring boy named Kai, none of whom she's sure she can trust. As secret after secret is revealed, Snow discovers that she is on the run from a royal lineage she's destined to inherit, a father more powerful and ruthless than she could have imagined, and choices of the heart that could change the fate of everything…including Snow's return to the world she once knew.
This breathtaking first volume begins the story of how Snow becomes a villain, a queen, and ultimately a hero.
Death's End (The Three-Body Problem #3) by Liu Cixin/ Ken Liu, Translator (Sept. 20th; SFF; Tor Books) – With The Three-Body Problem, English-speaking readers got their first chance to experience the multiple-award-winning and bestselling Three-Body Trilogy by China's most beloved science fiction author, Cixin Liu. Three-Body was released to great acclaim including coverage in The New York Times and The Wall Street Journal. It was also named a finalist for the Nebula Award, making it the first translated novel to be nominated for a major SF award since Italo Calvino's Invisible Cities in 1976.
Now this epic trilogy concludes with Death's End. Half a century after the Doomsday Battle, the uneasy balance of Dark Forest Deterrence keeps the Trisolaran invaders at bay. Earth enjoys unprecedented prosperity due to the infusion of Trisolaran knowledge. With human science advancing daily and the Trisolarans adopting Earth culture, it seems that the two civilizations will soon be able to co-exist peacefully as equals without the terrible threat of mutually assured annihilation. But the peace has also made humanity complacent.
Cheng Xin, an aerospace engineer from the early 21st century, awakens from hibernation in this new age. She brings with her knowledge of a long-forgotten program dating from the beginning of the Trisolar Crisis, and her very presence may upset the delicate balance between two worlds. Will humanity reach for the stars or die in its cradle?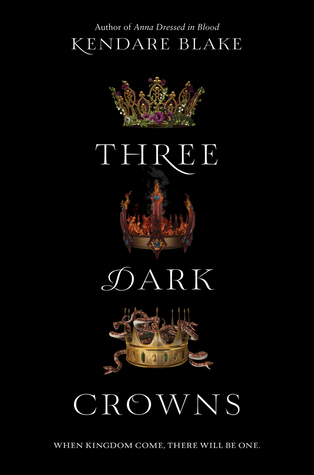 Three Dark Crowns (Three Dark Crowns #1) by Kendare Blake (Sept. 20th; YA/High Fantasy; HarperTeen) – Every generation on the island of Fennbirn, a set of triplets is born: three queens, all equal heirs to the crown and each possessor of a coveted magic. Mirabella is a fierce elemental, able to spark hungry flames or vicious storms at the snap of her fingers. Katharine is a poisoner, one who can ingest the deadliest poisons without so much as a stomachache. Arsinoe, a naturalist, is said to have the ability to bloom the reddest rose and control the fiercest of lions.
But becoming the Queen Crowned isn't solely a matter of royal birth. Each sister has to fight for it. And it's not just a game of win or lose…it's life or death. The night the sisters turn sixteen, the battle begins. The last queen standing gets the crown.
If only it was that simple. Katharine is unable to tolerate the weakest poison, and Arsinoe, no matter how hard she tries, can't make even a weed grow. The two queens have been shamefully faking their powers, taking care to keep each other, the island, and their powerful sister Mirabella none the wiser. But with alliances being formed, betrayals taking shape, and ruthless revenge haunting the queens' every move, one thing is certain: the last queen standing might not be the strongest…but she may be the darkest.
Places in My Heart by Sheryl Lister (Sept. 20th; Contemporary Romance; Harlequin Kimani) – He's got all the right moves 
Omar Drummond is a pro football superstar with a body that's a pure work of art. But Morgan Gray is forbidden to act on their chemistry, or repeat their impulsive kiss. Proving her worth as a sports agent means securing the notorious celebrity as a client, not a lover. Yet between flowers, sweet notes and heady hotel interludes, Omar is shamelessly seducing her…
Other agents—and exes—have tried using Omar as a meal ticket, and he's closed himself off from emotional entanglements. With Morgan, it's a whole new playbook. Smart and tough, she can negotiate a contract and turn him on all in one go, and he craves more. But in matters of trust, he's just fumbled badly. To win her, he has to show her the man he can be away from the pitch and the limelight, and hope that this time they're both playing for keeps.
Her Halloween Treat (Men at Work #1) by Tiffany Reisz (Sept. 20th; Contemporary Romance; Harlequin Blaze) – Trick…or wicked treat!
It was a devastating dirty trick—Joey Silvia just found out her boyfriend of two years is married. What. A. Dick. Joey knows her best chance to get over one guy is to get under another. Of course, heading home to her family's remote cabin in Oregon poses some challenges in the "available men" department…until she discovers this cabin comes with its own hot handyman!
Holy crap, Chris Steffensen. When did her brother's best friend turn into a hard-bodied pile of blond-bearded hotness? He's the perfect Halloween treat—and a surprisingly dirty rebound guy. For a couple of weeks, anyway. Except that Chris has other ideas…like proving to Joey that this blast from the past is a whole lot more than a naughty Halloween hookup. (REVIEW)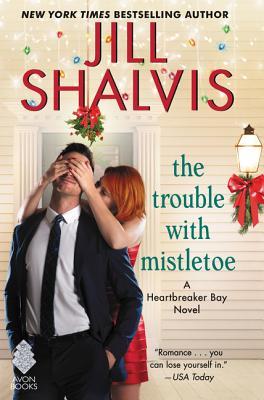 The Trouble with Mistletoe (Heartbreaker Bay #2) by Jill Shalvis (Sept. 27th; Contemporary Romance; Avon) – If she has her way . . .
Willa Davis is wrangling puppies when Keane Winters stalks into her pet shop with frustration in his chocolate-brown eyes and a pink bedazzled cat carrier in his hand. He needs a kitty sitter, stat. But the last thing
Willa needs is to rescue a guy who doesn't even remember her . . .
He'll get nothing but coal in his stocking.
Saddled with his great-aunt's Feline from Hell, Keane is desperate to leave her in someone else's capable hands. But in spite of the fact that he's sure he's never seen the drop-dead-gorgeous pet shop owner before, she seems to be mad at him . . .
Unless he tempers "naughty" with a special kind of nice . . .
Willa can't deny that Keane's changed since high school: he's less arrogant, for one thing—but can she trust him not to break her heart again? It's time to throw a coin in the fountain, make a Christmas wish—and let the mistletoe do its work . . .
Do You Want to Start a Scandal (Spindle Cove #5) by Tessa Dare (Sept. 27th; Historical Romance; Avon) – On the night of the Parkhurst ball, someone had a scandalous tryst in the library.
•Was it Lord Canby, with the maid, on the divan?
•Or Miss Fairchild, with a rake, against the wall?
•Perhaps the butler did it.
All Charlotte Highwood knows is this: it wasn't her. But rumors to the contrary are buzzing. Unless she can discover the lovers' true identity, she'll be forced to marry Piers Brandon, Lord Granville—the coldest, most arrogantly handsome gentleman she's ever had the misfortune
to embrace. When it comes to emotion, the man hasn't got a clue.
But as they set about finding the mystery lovers, Piers reveals a few secrets of his own. The oh-so-proper marquess can pick locks, land punches, tease with sly wit … and melt a woman's knees with a single kiss. The only thing he guards more fiercely than Charlotte's safety is the truth about his dark past.
Their passion is intense. The danger is real. Soon Charlotte's feeling torn. Will she risk all to prove her innocence? Or surrender it to a man who's sworn to never love?