This is Halloween! This is Halloween!
The Sexy One by Lauren Blakely (October 17, 2016; CreateSpace; Romance) Let me count the ways why falling into forbidden love is not my wisest move… 1. She works with me every single day. Did I mention she's gorgeous, sweet, kind and smart? 2. She works in my home. Playing with my five-year-old daughter. Teaching my little girl. Cooking for my princess. Which means… 3. She's the nanny. And that makes her completely off-limits…But it doesn't stop me from wanting her. All of her. The other nannies in this city don't call him the Sexy One for nothing. My boss, the amazingly wonderful single father to the girl I take care of every day is ridiculously hot, like movie star levels with those arms,and those eyes, and that body. Not to mention, the way he dotes on his little girl melts me all over. But what really makes my knees weak are the times when his gaze lingers on me. In secret. When no one else is around. I can't risk my job for a chance at something more…can I? But I don't know how to resist him much longer either…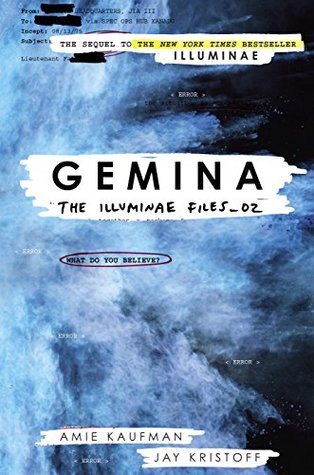 Gemina (The Illuminae Files #2) by Amie Kaufman, Jay Kristoff (Authors), Marie Lu (Illustrator) (October 18, 2016; Knopf Books for Young Readers; Young Adult Sci-fi) Moving to a space station at the edge of the galaxy was always going to be the death of Hanna's social life. Nobody said it might actually get her killed. The sci-fi saga that began with the breakout bestseller Illuminaecontinues on board the Jump Station Heimdall, where two new characters will confront the next wave of the BeiTech assault. Hanna is the station captain's pampered daughter; Nik the reluctant member of a notorious crime family. But while the pair are struggling with the realities of life aboard the galaxy's most boring space station, little do they know that Kady Grant and theHypatia are headed right toward Heimdall, carrying news of the Kerenza invasion. When an elite BeiTech strike team invades the station, Hanna and Nik are thrown together to defend their home. But alien predators are picking off the station residents one by one, and a malfunction in the station's wormhole means the space-time continuum might be ripped in two before dinner. Soon Hanna and Nik aren't just fighting for their own survival; the fate of everyone on the Hypatia—and possibly the known universe—is in their hands. But relax. They've totally got this. They hope. Once again told through a compelling dossier of emails, IMs, classified files, transcripts, and schematics, Gemina raises the stakes of the Illuminae Files, hurling readers into an enthralling new story that will leave them breathless.
Buffering: Unshared Tales of a Life Fully Loaded by Hannah Hart (October 18, 2016; Dey Street; Memoir) By combing through the journals that Hannah has kept for much of her life, this collection of narrative essays deliver a fuller picture of her life, her experiences, and the things she's figured out about family, faith, love, sexuality, self-worth, friendship and fame. Revealing what makes Hannah tick, this sometimes cringe-worthy, poignant collection of stories is sure to deliver plenty of Hannah's wit and wisdom, and hopefully encourage you to try your hand at her patented brand of reckless optimism.
Her Naughty Holiday (Men at Work #2) by Tiffany Reisz (October 18, 2016; Harlequin Blaze; Romance) Clover Greene would sooner crawl into her oven than host family for Thanksgiving dinner. Yet another annual ritual of too much food, served with a side of criticism over "Clover's Bad Life Choices." This year, she needs to distract them all—with a handsome fake boyfriend. And she has the perfect guy in mind. Contractor Erick Fields is the poster boy for sexy single dads, and Clover has been secretly crushing on him for ages. She certainly wasn't expecting Erick to agree to her insane charade…or to add lots of hot, wicked sex to the deal. If they can pull it off, the worst Thanksgiving ever might give them something to be really thankful for!
Waiting for Summer by Sherelle Green (October 18, 2016; Harlequin Kimani; Romance) Walking in her sisters' successful footsteps is a tough act to follow. But Summer Dupree has high hopes for the new Bare Sophistication lingerie boutique slated for a grand opening in Miami. Then she spies a familiar face. Up-and-coming fashion photographer Aiden Chase brings back cherished—and painful—memories. And now her childhood confidant and fiercest protector is determined to take their former relationship to a new intimate level. In the magic city to pursue his dreams, Aiden isn't letting Summer slip away again. He can't change the past—or events that altered his best friend's life forever. But he's ready to create a future together. Even when an unexpected threat resurfaces, Aiden won't give up this time without a fight. Can he turn his long-simmering passion for Summer into a love story for the ages?
The Magnolia Story by Chip Gaines, Joanna Gaines (October 18, 2016; Thomas Nelson; Memoir) The Magnolia Story is the first book from Chip and Joanna, offering their fans a detailed look at their life together. From the very first renovation project they ever tackled together, to the project that nearly cost them everything; from the childhood memories that shaped them, to the twists and turns that led them to the life they share on the farm today. They both attended Baylor University in Waco. However, their paths did not cross until Chip checked his car into the local Firestone tire shop where Joanna worked behind the counter. Even back then Chip was a serial entrepreneur who, among other things, ran a lawn care company, sold fireworks, and flipped houses. Soon they were married and living in their first fixer upper. Four children and countless renovations later, Joanna garners the attention of a television producer who notices her work on a blog one day. In The Magnolia Story fans will finally get to join the Gaines behind the scenes and discover: The time Chip ran to the grocery store and forgot to take their new, sleeping baby Joanna s agonizing decision to close her dream business to focus on raising their children When Chip buys a houseboat, sight-unseen, and it turns out to be a leaky wreck Joanna s breakthrough moment of discovering the secret to creating a beautiful home Harrowing stories of the financial ups and downs as an entrepreneurial couple Memories and photos from Chip and Jo's wedding The significance of the word magnolia and why it permeates everything they do The way the couple pays the popularity of Fixer Upper forward, sharing the success with others, and bolstering the city of Waco along the way. And yet there is still one lingering question for fans of the show: Is Chip really that funny? "Oh yeah," says Joanna. "He was, and still is, my first fixer upper."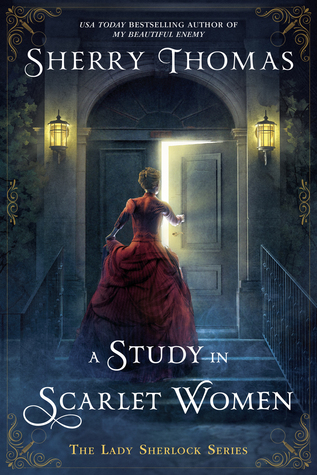 A Study in Scarlet Women (Lady Sherlock #1) by Sherry Thomas (October 18, 2016; Berkely; Historical Fiction) With her inquisitive mind, Charlotte Holmes has never felt comfortable with the demureness expected of the fairer sex in upper class society.  But even she never thought that she would become a social pariah, an outcast fending for herself on the mean streets of London. When the city is struck by a trio of unexpected deaths and suspicion falls on her sister and her father, Charlotte is desperate to find the true culprits and clear the family name. She'll have help from friends new and old—a kind-hearted widow, a police inspector, and a man who has long loved her. But in the end, it will be up to Charlotte, under the assumed name Sherlock Holmes, to challenge society's expectations and match wits against an unseen mastermind.
The Starlit Wood: New Fairy Tales by Dominik Parisien, Navah Wolfe (Editors) (October 18, 2016; Saga Press; Fantasy) Fairy tales have dominated our cultural imagination for centuries. From the Brothers Grimm to the Countess d'Aulnoy, from Charles Perrault to Hans Christian Anderson, storytellers have crafted all sorts of tales that have always found a place in our hearts. Now a new generation of storytellers have taken up the mantle that the masters created and shaped their stories into something startling and electrifying. Packed with award-winning authors, this anthology explores an array of fairy tales in startling and innovative ways, in genres and settings both traditional and unusual, including science fiction, western, and post-apocalyptic as well as traditional fantasy and contemporary horror. From the woods to the stars, The Starlit Wood: New Fairy Talestakes readers on a journey at once unexpected and familiar, as a diverse group of writers explore some of our most beloved tales in new ways across genres and styles.
Honor (The Breaking Point #1) by Jay Crownover (October 18, 2016; William Morrow; Romance) Don't be fooled. Don't make excuses for me. I am not a good man. I've seen things no one should, done things no one should talk about. Honor and conscience have no place in my life. But I've fought and I've survived. I've had to. The first time I saw her dancing on that seedy stage in that second rate club, I felt my heart pulse for the first time. Keelyn Foster was too young, too vibrant for this place, and I knew in an instant that I would make her mine. But first I had to climb my way to the top. I had to have something more to offer her. I'm here now, money is no object and I have no equal. Except for her. She's disappeared. But don't worry, I will find her and claim her. She will be mine. Like I said, don't be fooled. I am not the devil in disguise… I'm the one front and center.
Lost Gods: A Novel by Brom (October 25, 2016; Harper Voyager; Fantasy) Fresh out of jail and eager to start a new life, Chet Moran and his pregnant wife, Trish, leave town to begin again. But an ancient evil is looming, and what seems like a safe haven may not be all it appears… Snared and murdered by a vile, arcane horror, Chet quickly learns that pain and death are not unique to the living. Now the lives and very souls of his wife and unborn child are at stake. To save them, he must journey into the bowels of purgatory in search of a sacred key promised to restore the natural order of life and death. Alone, confused, and damned, Chet steels himself against the unfathomable terrors awaiting him as he descends into death's stygian blackness. With Lost Gods, Brom's gritty and visceral prose takes us on a haunting, harrowing journey into the depths of the underworld. Thrust into a realm of madness and chaos, where ancient gods and demons battle over the dead, and where cabals of souls conspire to overthrow their masters, Chet plays a dangerous game, risking eternal damnation to save his family.
Mockingbird, Vol. 1: I Can Explain (Mockingbird (2016-) #1) by Chelsea Cain (Author), Kate Niemczyk (Illustrations) (October 25, 2016; Marvel; Graphic Novel) Agent of S.H.I.E.L.D. Bobbi Morse, the former Avenger known as Mockingbird, goes solo in her own incredible adventures! With a scientific mind and a lethal mastery of martial arts, she's one of the most versatile, in-demand assets at Maria Hill's disposal – that makes her ideal for investigating strange goings-on in S.H.I.E.L.D.'s own medical and recovery network. And when Lance Hunter's undercover gig at the London Hellfire Club goes south, Mockingbird sets off, battle staves at the ready, to save him – and the Queen of England! From helping out a teen driven bonkers by her own new powers, to doing a little dog-sitting, Bobbi shows that she's a woman of many talents as bestselling author Chelsea Cain and artist Kate Niemczyk make Mockingbird sing!
Certain Dark Things by Silvia Moreno-Garcia (October 25, 2016; Thomas Dunne Books; Fantasy) Welcome to Mexico City… An Oasis In A Sea Of Vampires… Domingo, a lonely garbage-collecting street kid, is busy eking out a living when a jaded vampire on the run swoops into his life. Atl, the descendant of Aztec blood drinkers, must feast on the young to survive and Domingo looks especially tasty. Smart, beautiful, and dangerous, Atl needs to escape to South America, far from the rival narco-vampire clan pursuing her. Domingo is smitten. Her plan doesn't include developing any real attachment to Domingo. Hell, the only living creature she loves is her trusty Doberman. Little by little, Atl finds herself warming up to the scrappy young man and his effervescent charm. And then there's Ana, a cop who suddenly finds herself following a trail of corpses and winds up smack in the middle of vampire gang rivalries. Vampires, humans, cops, and gangsters collide in the dark streets of Mexico City. Do Atl and Domingo even stand a chance of making it out alive?
A Taste of Honey by Kai Ashante Wilson (October 25, 2016; Tor.com; Fantasy) Long after the Towers left the world but before the dragons came to Daluça, the emperor brought his delegation of gods and diplomats to Olorum. As the royalty negotiates over trade routes and public services, the divinity seeks arcane assistance among the local gods. Aqib bgm Sadiqi, fourth-cousin to the royal family and son of the Master of Beasts, has more mortal and pressing concerns. His heart has been captured for the first time by a handsome Daluçan soldier named Lucrio. in defiance of Saintly Canon, gossiping servants, and the furious disapproval of his father and brother, Aqib finds himself swept up in a whirlwind romance. But neither Aqib nor Lucrio know whether their love can survive all the hardships the world has to throw at them.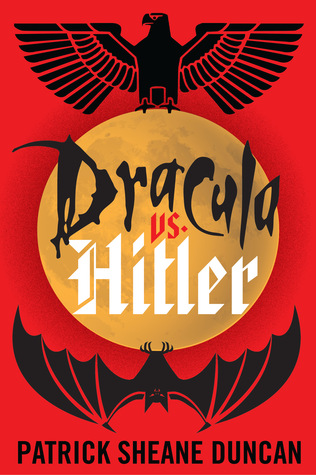 Dracula vs. Hitler by Patrick Sheane Duncan (October 25, 2016; Inkshares; Fantasy) Ravaged by the Nazi Secret Service during World War II, Romanian resistance forces turn to one of their leaders, Professor Van Helsing for any way out. To fight these monstrous forces, Van Helsing raises a legendary monster from centuries of slumber… Prince Dracula himself. Once he was the ruler of Transylvania. Prince Vlad Dracul, is, above all else, a patriot. He proves more than willing to once again drive out his country's invaders. Upshot: No one minds if he drinks all the German blood he desires. In Berlin, when Hitler hears about the many defeats his forces are suffering at the hands of an apparent true vampire, he is seduced by the possibility of becoming immortal. Thus two forces are set upon a collision course, the ultimate confrontation: Superpower against superpower.