Winter is coming.
Curl up with a book and hot cocoa like the book nerd that you are. Don't forget the quirky socks. Gotta have the quirky socks.
---
Daughters of a Nation: A Black Suffragette Historical Romance Anthology by Kianna Alexander, Alyssa Cole , Lena Hart, Piper Huguley (Nov. 1st; Historical Romance; Maroon Ash Publishing) – The fight for suffrage was long, hard, and carried out on many fronts. In Daughters of A Nation, Kianna Alexander, Alyssa Cole, Lena Hart, and Piper Huguley bring you four novellas full of spirit, hope, and, most importantly: LOVE.
IN THE MORNING SUN
by Lena Hart
With the election of 1868 underway, Madeline Asher's mission is clear: educate and enlist the freedmen of Nebraska to vote. After losing the man she loved to war—and a small piece of herself along the way—Madeline leaves her life in Philadelphia behind, determined to reclaim her life's purpose by making a difference in others.
With America's Southern Rebellion at an end, so are the efforts of Union veteran James Blakemore. Tired of the injustices still plaguing the young country, he sets his sights toward his Canadian roots—until fate guides him back to the love he thought he'd lost.
Vowing never to leave her side again, James joins Madeline in her cause to help the freedmen of Dunesville, despite rising threats and violence. But with the enforcement of Nebraska's anti-miscegenation laws, Madeline is forced to choose between a life with her new husband or the chance to shape a greater nation.
THE WASHERWOMAN'S WAR
by Piper Huguley
Atlanta, GA – Summer 1881. When Maime Harper arrives to substitute teach for the Atlanta Baptist Female Seminary, she bears witness to the injustice told by some of the older students who are washerwomen. Maime's upbringing as the daughter of the most famous Black suffragette in America means that she cannot be silent and resolves to help her students find their voice and openly protest their mistreatment.
When the Black Washerwomen go on strike, summer pastor Gabriel Harmon is brought in to mediate a solution but realizes the feisty leader of the opposition is the young teacher from Milford who previously rejected his attempts to pay court to her. When these two forces collide over explosive events during a hot Atlanta summer, only one will be able to win the battle. However, as they clash, Maime and Gabriel learn that there is another war, the war for the heart, that's well worth the fight.
A RADIANT SOUL
by Kianna Alexander
In 1881, Sarah Webster is returning home to Fayetteville, NC to celebrate her mother's milestone birthday. Having spent the last two years working as a pastry chef in a Cheyenne hotel, she's a very different person than she was when she left. Her efforts towards women's suffrage, unknown to her family back home, are near and dear to her heart.
Carpenter Owen Markham, charged with building the gazebo that will serve as Mrs. Webster's birthday gift, is intrigued by the middle daughter of the Webster household, whom he's never met before. Her father has decreed that he and Sarah are suited, but when he hears her unconventional stance on women's role in society, he's not so sure a love match can be made.
LET US DREAM
by Alyssa Cole
Harlem – 1917. After spending half her life pretending to be something she's not, performance is second nature for cabaret owner Bertha Hines. With the election drawing near and women's voting rights on the ballot, Bertha decides to use her persuasive skills to push the men of New York City in the right direction.
Chef Amir Chowdhury jumped ship in New York to get a taste of the American Dream, only to discover he's an unwanted ingredient. When ornery Amir reluctantly takes a job at The Cashmere, he thinks he's hit the bottom of the barrel; however, working at the club reignites his dream of being a force for change. His boss, Bertha, ignites something else in him.
Bertha and Amir clash from the start, but her knowledge of politics and his knowledge of dance force them into a detente that blooms into desire. But Bertha has the vice squad on her tail, and news from home may end Amir's dream before it comes to fruition. With their pasts and futures stacked against them, can Amir and Bertha hold on to their growing love?
So For Real (Sugar Baby #3) by Rebekah Weatherspoon (Nov 1st; Contemporary Romance) – Even the best laid plans can go completely off the rails…
After pulling off the perfect wedding, Kayla Davis, now Kayla Bradbury, need only sit back and enjoy her wonderful life with her amazing husband, internet billionaire and NBA franchise owner, Michael Bradbury. The two are so head over heels for each other that finding creative ways to extend their honeymoon a whole year seems likes the only logical next step in their fool-proof plan for happiness.
Too bad life has other ideas for the newlyweds. With personnel hiccups in her small business, a husband balancing dual CEO responsibilities, and news that there will be not one, but two unexpected additions to the Bradbury crew, Kayla needs to totally reconfigure her life if she has any hope of keeping things afloat.
A Million Worlds with You (Firebird #3) by Claudia Gray (Nov. 1st; SFF/YA; HarperTeen) – A million universes. A million dangers. One destiny.
The fate of the multiverse rests in Marguerite Caine's hands. Marguerite has been at the center of a cross-dimensional feud since she first traveled to another universe using her parents' invention, the Firebird. Only now has she learned the true plans of the evil Triad Corporation—and that those plans could spell doom for dozens or hundreds of universes, each facing total annihilation.
Paul Markov has always been at Marguerite's side, but Triad's last attack has left him a changed man—angry and shadowed by tragedy. He struggles to overcome the damage done to him, but despite Marguerite's efforts to help, Paul may never be the same again.
So it's up to Marguerite alone to stop the destruction of the multiverse. Billions of lives are at stake. The risks have never been higher. And Triad has unleashed its ultimate weapon: another dimension's Marguerite—wicked, psychologically twisted, and always one step ahead.
In the epic conclusion to Claudia Gray's Firebird trilogy, fate and family will be questioned, loves will be won and lost, and the multiverse will be forever changed. It's a battle of the Marguerites . . . and only one can win.
You in Five Acts by Una LaMarche (Nov. 1st; YA/Contemporary; Razorbill) –  In the high-pressure months leading up to the performance that will determine their futures, a group of friends at a performing arts school look back on when an unexpected event upended everything. The moment that changed their relationships, their friendships, and their lives forever.
At a prestigious New York City performing arts school, five friends connect over one dream of stardom. But for Joy, Diego, Liv, Ethan and Dave, that dream falters under the pressure of second-semester, Senior year. Ambitions shift and change, new emotions rush to the surface, and a sense of urgency pulses between them: Their time together is running out.
Diego hopes to get out of the friend zone. Liv wants to escape, losing herself in fantasies of the new guy. Ethan conspires to turn his muse into his girlfriend. Dave pines for the drama queen. And if Joy doesn't open her eyes, she could lose the love that's been in front of her all along.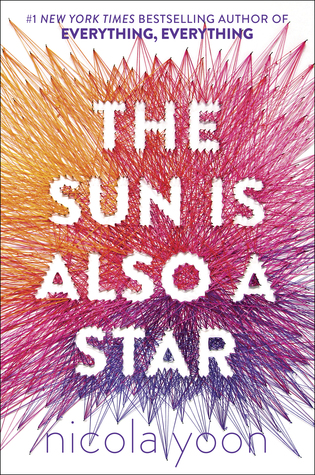 The Sun Is Also a Star by Nicola Yoon (Nov. 1st; YA/Contemporary Romance; Delacorte Press) –  Natasha: I'm a girl who believes in science and facts. Not fate. Not destiny. Or dreams that will never come true. I'm definitely not the kind of girl who meets a cute boy on a crowded New York City street and falls in love with him. Not when my family is twelve hours away from being deported to Jamaica. Falling in love with him won't be my story.
Daniel: I've always been the good son, the good student, living up to my parents' high expectations. Never the poet. Or the dreamer. But when I see her, I forget about all that. Something about Natasha makes me think that fate has something much more extraordinary in store—for both of us.
The Universe: Every moment in our lives has brought us to this single moment. A million futures lie before us. Which one will come true?
Archangel's Heart (Guild Hunter #9) by Nalini Singh (Nov. 1st; Urban Fantasy; Berkley) –  One of the most vicious archangels in the world has disappeared. No one knows if Lijuan is dead or has chosen to Sleep the long sleep of an immortal. But with her lands falling into chaos under a rising tide of vampiric bloodlust, a mysterious and ancient order of angels known as the Luminata calls the entire Cadre together to discuss the fate of her territory.
Accompanying her archangelic lover Raphael to the Luminata compound, guild hunter-turned-angel Elena senses that all is not as it seems. Secrets echo from within the stone walls of the compound, and the deeper Elena goes, the uglier the darkness. But neither Raphael nor Elena is ready for the brutal truths hidden within—truths that will change everything Elena thinks she knows about who she is…
Nothing will ever be the same again.
Dirty Like Me (Dirty #1) by Jaine Diamond (Nov. 2nd; Contemporary Romance; DreamWarp Books) –
A gorgeous rock star.
An indecent proposal.
How can a girl resist?
Struggling barista Katie Bloom doesn't even know who Jesse Mayes is until she inadvertently wins the coveted role of sex kitten in his hot new music video. But by the time she's in bed with him, she knows his reputation. Love maker. Heartbreaker. Making out with a stranger in front of a camera crew isn't how Katie imagined herself getting over a broken heart, but when Jesse touches her, sparks fly. The sex is fake but the chemistry is real, and soon the steamy video is blazing up the charts. Then Jesse makes Katie an irresistible offer: act as his girlfriend for six weeks while he promotes his new album. The only catch? Their sizzling make-out sessions will be for the cameras only. Which is fine with Katie, since she's not about to trust her heart to rock's most legendary lover. Her body? Maybe…

One Snowy Night (Heartbreaker Bay #2.5) by Jill Shalvis (Nov. 8th; Contemporary Romance; Avon Impulse) – It's Christmas Eve and Rory Andrews is desperate to get home to the family she hasn't seen in years. Problem is, her only ride to Lake Tahoe comes in the form of the annoyingly handsome Max Stranton, and his big, goofy, lovable dog Carl.
Hours stuck in a truck with the dead sexy Max sounds like a fate worse than death (not), but Rory's out of options. She's had a crush on Max since high school and she knows he's attracted to her, too. But they have history… and Max is the only one who knows why it went south.
They've done a good job of ignoring their chemistry so far, but a long road trip in a massive blizzard might be just what they need to face their past… and one steamy, snowy night is all it takes to bring Max and Rory together at last.
Someone To Love (Westcott #1) by Mary Balogh (Nov. 8th; Historical Romance; Signet) – Humphrey Wescott, Earl of Riverdale, has died, leaving behind a fortune that will forever alter the lives of everyone in his family—including the daughter no one knew he had…
Anna Snow grew up in an orphanage in Bath knowing nothing of the family she came from. Now she discovers that the late Earl of Riverdale was her father and that she has inherited his fortune. She is also overjoyed to learn she has siblings. However, they want nothing to do with her or her attempts to share her new wealth. But the new earl's guardian is interested in Anna…
Avery Archer, Duke of Netherby, keeps others at a distance. Yet something prompts him to aid Anna in her transition from orphan to lady. As London society and her newfound relatives threaten to overwhelm Anna, Avery steps in to rescue her and finds himself vulnerable to feelings and desires he has hidden so well and for so long.
Since I Fell for You (New York Sullivans #2) by Bella Andre (Nov. 9th; Contemporary Romance) – Suzanne Sullivan doesn't need a bodyguard. After all, she's one of the most successful digital security specialists in the world―so she can most certainly take care of herself despite the problems she's been running into lately. Unfortunately, her three brothers don't agree. So when Mr. Way-Too-Handsome shows up bound and determined to protect her, whether she wants him there or not, sparks definitely start to fly. Because she has absolutely no intention of falling for the bodyguard she never wanted in the first place…
Roman Huson has vowed to do whatever it takes to protect Suzanne Sullivan from harm. And her brothers would kill him for so much as looking at her the wrong way. The only problem is that he's never been hired to work for anyone so beautiful, or brilliant, before. Between trying to keep up with her―and working like hell to keep from kissing her breathless―he's up against the most difficult challenge of his life. Especially when it turns out that the passion, and connection, between them is hotter than anything he's ever known…
Swing Time by Zadie Smith (Nov. 15th; Literary Fiction; Hamish Hamilton) – Two brown girls dream of being dancers – but only one, Tracey, has talent. The other has ideas: about rhythm and time, about black bodies and black music, what constitutes a tribe, or makes a person truly free. It's a close but complicated childhood friendship that ends abruptly in their early twenties, never to be revisited, but never quite forgotten, either…
Dazzlingly energetic and deeply human, Swing Time is a story about friendship and music and stubborn roots, about how we are shaped by these things and how we can survive them. Moving from North-West London to West Africa, it is an exuberant dance to the music of time.
Mass Effect: Andromeda: Initiation (Mass Effect: Andromeda, #1) by N.K. Jemisin (Nov. 14th; Sci-Fi; Titan Books)