Before you over-indulge on the turkey or curl up on the sofa suffering through whatever football game is on…
Here are some new books to get you ready for that impending food coma.
---
Since I Fell for You (New York Sullivans #2) by Bella Andre (Nov. 16th; Contemporary Romance) – Suzanne Sullivan doesn't need a bodyguard. After all, she's one of the most successful digital security specialists in the world―so she can most certainly take care of herself despite the problems she's been running into lately. Unfortunately, her three brothers don't agree. So when Mr. Way-Too-Handsome shows up bound and determined to protect her, whether she wants him there or not, sparks definitely start to fly. Because she has absolutely no intention of falling for the bodyguard she never wanted in the first place…
Roman Huson has vowed to do whatever it takes to protect Suzanne Sullivan from harm. And her brothers would kill him for so much as looking at her the wrong way. The only problem is that he's never been hired to work for anyone so beautiful, or brilliant, before. Between trying to keep up with her―and working like hell to keep from kissing her breathless―he's up against the most difficult challenge of his life. Especially when it turns out that the passion, and connection, between them is hotter than anything he's ever known…
Fantastic Beasts and Where to Find Them: The Original Screenplay by J.K. Rowling (Nov 19th; SFF; Little Brown Book Group) – J.K. Rowling's screenwriting debut is captured in this exciting hardcover edition of the Fantastic Beasts and Where to Find Them screenplay.
When Magizoologist Newt Scamander arrives in New York, he intends his stay to be just a brief stopover. However, when his magical case is misplaced and some of Newt's fantastic beasts escape, it spells trouble for everyone…
Fantastic Beasts and Where to Find Them marks the screenwriting debut of J.K. Rowling, author of the beloved and internationally bestselling Harry Potter books. Featuring a cast of remarkable characters, this is epic, adventure-packed storytelling at its very best.
Whether an existing fan or new to the wizarding world, this is a perfect addition to any reader's bookshelf.
Queer: A Graphic History by Meg John Barker, Julia Scheele (Nov. 15th; Nonfiction/Graphic Novel; Icon Books) – Activist-academic Meg John Barker and cartoonist Julia Scheele illuminate the histories of queer thought and LGBTQ+ action in this groundbreaking non-fiction graphic novel. A kaleidoscope of characters from the diverse worlds of pop-culture, film, activism and academia guide us on a journey through the ideas, people and events that have shaped 'queer theory'.
From identity politics and gender roles to privilege and exclusion, Queer explores how we came to view sex, gender and sexuality in the ways that we do; how these ideas get tangled up with our culture and our understanding of biology, psychology and sexology; and how these views have been disputed and challenged.
Along the way we look at key landmarks which shift our perspective of what's 'normal', such as Alfred Kinsey's view of sexuality as a spectrum between heterosexuality and homosexuality, Judith Butler's view of gendered behavior as a performance, the play Wicked, which reinterprets characters from The Wonderful Wizard of Oz, or moments in Casino Royalewhen we're invited to view James Bond with the kind of desiring gaze usually directed at female bodies in mainstream media.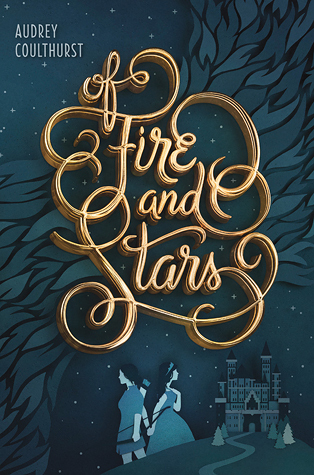 Of Fire and Stars by Audrey Coulthurst (Nov. 22nd; YA/Fantasy Romance; Balzer + Bray) –
Betrothed since childhood to the prince of Mynaria, Princess Dennaleia has always known what her future holds. Her marriage will seal the alliance between Mynaria and her homeland, protecting her people from other hostile lands. But Denna has a secret. She possesses an Affinity for fire—a dangerous gift for the future queen of a kingdom where magic is forbidden.
Now, Denna must learn the ways of her new home while trying to hide her growing magic. To make matters worse, she must learn to ride Mynaria's formidable warhorses before her coronation—and her teacher is the person who intimidates her most, the prickly and unconventional Princess Amaranthine (called Mare), sister of her betrothed.
When a shocking assassination leaves the kingdom reeling, Mare and Denna reluctantly join forces to search for the culprit. As the two work together, each discovers there's more to the other than she thought. Mare is surprised by Denna's intelligence and bravery, while Denna is drawn to Mare's independent streak. Soon their friendship is threatening to blossom into something more.
But with dangerous conflict brewing that makes the alliance more important than ever, acting on their feelings could be deadly. Forced to choose between their duty and their hearts, Mare and Denna must find a way to save their kingdoms—and each other.

One Mistletoe Wish (The Taylors of Temptation #1) by A.C. Arthur (Nov. 22nd; Contemporary Romance; Harlequin Kimani) – All she wants for Christmas… 
Everything schoolteacher Morgan Hill loves is in her hometown of Temptation, Virginia—her twins, her students and the charming community center where she's staging their holiday play. But now the building's new owner, Grayson Taylor, is putting sexy visions into Morgan's head, making the young widow long for a future even Santa couldn't deliver.
As the oldest of sextuplets, Gray grew up in the media spotlight. His family's fame once helped Temptation thrive, but drove his parents apart. Coming back is just a bittersweet necessity until he meets petite firecracker Morgan. Somehow she gets the handsome tech guru to forget about big business in favor of small-town delights…and steamy winter nights. It's a life he never knew he wanted, but can he put his past aside to turn a festive fling into the sweetest forever?
A Chase for Christmas by Candace Shaw (Nov. 22nd; Contemporary Romance; Harlequin Kimani) – Chasing a dream of love 
The pursuit of love has always been high on Preston Chase's priority list. But the video game developer has yet to find the soul mate he craves. His sister's best friend—artist and studio owner Blythe Ventura—is a world away from the shallow glam girls who've thrown themselves at him. With her creative spirit and passionate commitment, she's the ideal candidate for his Winter Wonderland project. Too bad she doesn't seem interested in being the one to win his heart.
After a string of dating disasters, Blythe isn't ready to believe in a romantic relationship with Preston. Until their work giving sick children hope and joy for Christmas brings them together—and reveals a very different side of the notorious millionaire playboy. All she has to do is trust in the feelings Preston is awakening and this just might be the year that they both find the happy holiday ending they've been searching for…
Kissed by Christmas (Tropical Destiny #2) by Jamie Pope (Nov. 22nd; Contemporary Romance; Harlequin Kimani) – Christmas in paradise 
Hallie Roberts has had a string of bad luck, beginning with her fiancé dumping her! Now she is disillusioned and ready to leave her beloved big-city teaching job behind and return to her idyllic island hometown. Then fate intervenes, and a slip and fall on the ice brings gorgeous, brave paramedic Asa Andersen to her rescue and into her chaotic life.
Saving victims can take its toll, but Hallie fills Asa with hope and renewed purpose. His mission to show the homesick English teacher a romantic New York Christmas culminates in a passionate, brief affair. But Asa isn't about to lose the best thing to ever happen to him. When they meet again on Hideaway Island, the magic and sensuality of the sultry isle affects them both. Can he convince Hallie to trust in their future and a love that's worth every risk?
One Hot December (Men at Work #3) by Tiffany Reisz (Nov. 22nd; Contemporary Romance; Harlequin Blaze) – Hard as steel…and hotter still!
Never mess with a woman who carries a blowtorch in her backpack. Welder and artist Veronica "Flash" Redding's playful sense of evil sometimes gets the better of her. Like when her insanely handsome, wealthy, suited-up boss gave her the most sensuously wicked night of her life…then dumped her. Yep, revenge is a dish best served hot.
Only Ian Asher isn't quite letting Flash get away quite so easily. He's not ready to forget the intensity between them. The searing heat when they touch. And the deliciously demanding control Ian wields in the bedroom. Now he has only the holidays to convince Flash that they belong together…and that even the most exquisite, broken things can be welded back together.
The Fate of the Tearling (The Queen of the Tearling #3) by Erika Johansen (Nov. 29th; YA/High Fantasy, Dystopia; Harper) – The thrilling conclusion to the New York Times bestselling Tearling trilogy.
In less than a year, Kelsea Glynn has transformed from a gawky teenager into a powerful monarch. As she has come into her own as the Queen of the Tearling, the headstrong, visionary leader has also transformed her realm. In her quest to end corruption and restore justice, she has made many enemies—including the evil Red Queen, her fiercest rival, who has set her armies against the Tear.
To protect her people from a devastating invasion, Kelsea did the unthinkable—she gave herself and her magical sapphires to her enemy—and named the Mace, the trusted head of her personal guards, Regent in her place. But the Mace will not rest until he and his men rescue their sovereign, imprisoned in Mortmesne.
Now, as the suspenseful endgame begins, the fate of Queen Kelsea—and the Tearling itself—will finally be revealed.

The Unbelievable Gwenpool, Vol. 1: Believe It (The Unbelievable Gwenpool #1) by Christopher Hastings, Danilo Beyruth, Gurihiru (Nov. 29th; Superhero/Graphic Novel; Marvle) – 2015's overnight internet sensation takes center stage in her own series!
Gwen Poole used to be a comic book reader just like you…until she woke up in a world where the characters she read about seemed to be real! But that can't be, right? This must all be fake, or a dream or something, right? And you know what that means…NO CONSEQUENCES!
Could Gwenpool truly be Marvel's least responsible and least role-modely character to date? She can if she tries!
Prince Lestat and the Realms of Atlantis (The Vampire Chronicles #12) by Anne Rice (Nov. 29th; Paranormal/Horror; Knopf) – At the novel's center: the vampire Lestat de Lioncourt, hero, leader, inspirer, irresistible force, irrepressible spirit, battling (and ultimately reconciling with) a strange otherworldly form that has somehow taken possession of Lestat's undead body and soul. This ancient and mysterious power and unearthly spirit of vampire lore has all the force, history, and insidious reach of the unknowable Universe.
It is through this spirit, previously considered benign for thousands of vampire years and throughout the Vampire Chronicles, that we come to be told the hypnotic tale of a great sea power of ancient times; a mysterious heaven on earth situated on a boundless continent–and of how and why, and in what manner and with what far-reaching purpose, this force came to build and rule the great legendary empire of centuries ago that thrived in the Atlantic Ocean.
And as we learn of the mighty, far-reaching powers and perfections of this lost kingdom of Atalantaya, the lost realms of Atlantis, we come to understand its secrets, and how and why the vampire Lestat, indeed all the vampires, must reckon so many millennia later with the terrifying force of this ageless, all-powerful Atalantaya spirit.