::Exhale::
You made it to 2017. Happy New Year!
Here are a list of new books to get your January started in the right direction.
---
Difficult Women by Roxane Gay (Jan. 3rd; Literary Fiction; Grove Press) – Award-winning author and powerhouse talent Roxane Gay burst onto the scene with An Untamed State and the New York Times bestselling essay collection Bad Feminist (Harper Perennial). Gay returns with Difficult Women, a collection of stories of rare force and beauty, of hardscrabble lives, passionate loves, and quirky and vexed human connection.
The women in these stories live lives of privilege and of poverty, are in marriages both loving and haunted by past crimes or emotional blackmail. A pair of sisters, grown now, have been inseparable ever since they were abducted together as children, and must negotiate the elder sister's marriage. A woman married to a twin pretends not to realize when her husband and his brother impersonate each other. A stripper putting herself through college fends off the advances of an overzealous customer. A black engineer moves to Upper Michigan for a job and faces the malign curiosity of her colleagues and the difficulty of leaving her past behind. From a girls' fight club to a wealthy subdivision in Florida where neighbors conform, compete, and spy on each other, Gay delivers a wry, beautiful, haunting vision of modern America reminiscent of Merritt Tierce, Jamie Quatro, and Miranda July.
Battle Hill Bolero by Daniel José Older (Jan. 3rd; Urban Fantasy; Roc) – In the third in the richly detailed and diverse (io9) urban fantasy series, the time has come for the dead to rise up against the shady powers-that-be…
"The time has come for the dead to rise up…"
Trouble is brewing between the Council of the Dead and the ghostly, half-dead, spiritual, and supernatural community they claim to represent. One too many shady deals have gone down in New York City s streets, and those caught in the crossfire have had enough. It s time for the Council to be brought down this time for good.
Carlos Delacruz is used to being caught in the middle of things: both as an inbetweener, trapped somewhere between life and death, and as a double agent for the Council. But as his friends begin preparing for an unnatural war against the ghouls in charge, he realizes that more is on the line than ever before not only for the people he cares about, but for every single soul in Brooklyn, alive or otherwise…"
Wanted, A Gentelman by KJ Charles (Jan 9th; Historical Romance; Riptide Publishing) – By the good offices of Riptide Publishing
KJ Charles's new Entertainment
WANTED, A GENTLEMAN
Or, Virtue Over-Rated
the grand romance of
Mr. Martin St. Vincent . . . a Merchant with a Mission, also a Problem
Mr. Theodore Swann . . . a humble Scribbler and Advertiser for Love
Act the First:
the offices of the Matrimonial Advertiser, London
where Lonely Hearts may seek one another for the cost of a shilling
Act the Second:
a Pursuit to Gretna Green (or thereabouts)
featuring
a speedy Carriage
sundry rustic Inns
a private Bed-chamber
---
In the course of which are presented
Romance, Revenge, and Redemption
Deceptions, Discoveries, and Desires
the particulars of which are too numerous to impart
Surrender by Lisa Renee Jones (Jan 9th; Romantic Suspense; Pocket Star) –
Passion burns fiercely hot between Ella Ferguson and Kayden Wilkens, the man who held secrets and lies in his hands, and then allowed them to fall into hers. But even though he has become her anchor—helping her recover from amnesia after finding her unconscious in an alley, and allowing her into his secret world—all is not what it seems. Kayden still has secrets, and pieces of Ella's past are still shrouded in the darkness of her mind, while the powerful man who hunts her will not stop until she is his. In this final, explosive novel in the Careless Whispers series, Ella discovers that while her life with Kayden didn't begin in that dark alley…it could easily end there.

The Alchemists of Loom (Loom Saga #1) by Elise Kova (Jan 10th; YA Fantasy/Steampunk; Keymaster Press) – Her vengeance. His vision.
Ari lost everything she once loved when the Five Guilds' resistance fell to the Dragon King. Now, she uses her unparalleled gift for clockwork machinery in tandem with notoriously unscrupulous morals to contribute to a thriving underground organ market. There isn't a place on Loom that is secure from the engineer turned thief, and her magical talents are sold to the highest bidder as long as the job defies their Dragon oppressors.
Cvareh would do anything to see his sister usurp the Dragon King and sit on the throne. His family's house has endured the shame of being the lowest rung in the Dragons' society for far too long. The Alchemist Guild, down on Loom, may just hold the key to putting his kin in power, if Cvareh can get to them before the Dragon King's assassins.
When Ari stumbles upon a wounded Cvareh, she sees an opportunity to slaughter an enemy and make a profit off his corpse. But the Dragon sees an opportunity to navigate Loom with the best person to get him where he wants to go.
He offers her the one thing Ari can't refuse: A wish of her greatest desire, if she brings him to the Alchemists of Loom.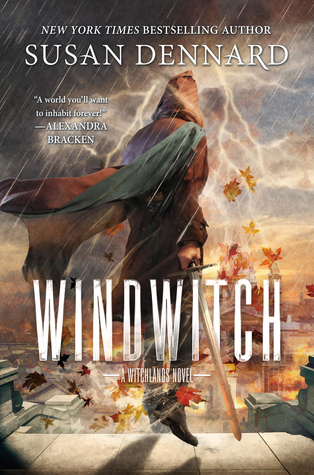 Windwitch (The Witchlands #2) by Susan Dennard (Jan. 10th; YA Fantasy; Tor Teen) – Sometimes our enemies are also our only allies…
After an explosion destroys his ship, the world believes Prince Merik, Windwitch, is dead. Scarred yet alive, Merik is determined to prove his sister's treachery. Upon reaching the royal capital, crowded with refugees, he haunts the streets, fighting for the weak—which leads to whispers of a disfigured demigod, the Fury, who brings justice to the oppressed.
When the Bloodwitch Aeduan discovers a bounty on Iseult, he makes sure to be the first to find her—yet in a surprise twist, Iseult offers him a deal. She will return money stolen from him, if he locates Safi. Now they must work together to cross the Witchlands, while constantly wondering, who will betray whom first?
After a surprise attack and shipwreck, Safi and the Empress of Marstok barely escape with their lives. Alone in a land of pirates, every moment balances on a knife's edge—especially when the pirates' next move could unleash war upon the Witchlands.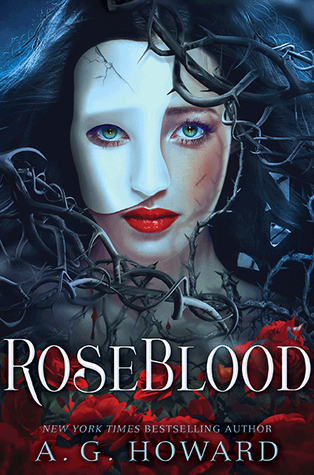 RoseBlood by A. G. Howard (Jan. 10th; YA/Fantasy/Romance; Amulet Books) – In this modern day spin on Leroux's gothic tale of unrequited love turned to madness, seventeen-year-old Rune Germain has a mysterious affliction linked to her operatic talent, and a horrifying mistake she's trying to hide. Hoping creative direction will help her, Rune's mother sends her to a French arts conservatory for her senior year, located in an opera house rumored to have ties to The Phantom of the Opera.
At RoseBlood, Rune secretly befriends the masked Thorn—an elusive violinist who not only guides her musical transformation through dreams that seem more real than reality itself, but somehow knows who she is behind her own masks. As the two discover an otherworldly connection and a soul-deep romance blossoms, Thorn's dark agenda comes to light and he's forced to make a deadly choice: lead Rune to her destruction, or face the wrath of the phantom who has haunted the opera house for a century, and is the only father he's ever known.
Frostblood (Frostblood Saga #1) by Elly Blake (Jan. 10; YA Fantasy; Little Brown Books for Young Readers) – Seventeen-year-old Ruby is a fireblood who must hide her powers of heat and flame from the cruel frostblood ruling class that wants to destroy all that are left of her kind. So when her mother is killed for protecting her and rebel frostbloods demand her help to kill their rampaging king, she agrees. But Ruby's powers are unpredictable, and she's not sure she's willing to let the rebels and an infuriating (yet irresistible) young man called Arcus use her as their weapon.
All she wants is revenge, but before they can take action, Ruby is captured and forced to take part in the king's tournaments that pit fireblood prisoners against frostblood champions. Now she has only one chance to destroy the maniacal ruler who has taken everything from her and from the icy young man she has come to love.
Fast-paced and compelling, Frostblood is the first in a page-turning new young adult three-book series about a world where flame and ice are mortal enemies—but together create a power that could change everything.
To Catch a Stolen Soul (Djinn Haven #1) by R. L. Naquin (Jan 9th; Urban Fantasy) – Kam is a soul chaser for the Hidden Government, a much harder job now that the Hidden look like everyone else. Broke, out of magic and sick of playing waitress in a pirate-themed dive bar, Kam jumps at a chance for an out-of-town mission.
A reaper—and his loaded soul stone—have gone missing. The stone contains souls that might get permanently stuck if Kam doesn't find it, like, yesterday. She tracks the reaper down to a food truck outside Kansas City, only to find a dead reaper and no soul stone in sight. Which means that someone who should be dead killed the reaper and is running around with a powerful magic item. Not good.
And apparently the killer is targeting food-truck owners that also happen to be Hidden. So the only thing to do is open her own truck and go undercover—goodbye Kam the Djinn, hello Mobile Food Entrepreneur—and hope that she and her new runaway friend won't be the next targets…

Closer to Home (Darlington Romances) by Rachel Spangler (Jan. 10th; Contemporary Romance; Bywater Books) – Kelly Rolen is a CPA—she's smart, she's focused, and she's worked hard to build an orderly career and a respectable life in her hometown of Darlington, Illinois. Everything is precisely as it should be. Well, it is until her father suffers a debilitating stroke during the busiest time of her year—tax season. Suddenly, Kelly finds herself overworked, exhausted, behind schedule, and forced to hire an intern to meet her deadlines.
Elliot Garza is young and brash, but she's also a talented accounting student who is charismatic, driven, and solely focused on completing her internship so she can escape from the bleak Midwestern town to Washington, DC and her dream job. She knows she has the professional skills necessary to do the job well, but she is less certain about her ability to handle her beautiful, prickly, demanding, and compelling new boss.
In this fresh new romance from one of the genre's top young authors, will Kelly's past and Elliot's future add up to something greater than the sum of their escalating attraction, or will the answer to their equation end up hitting too close to home?