Welcome to the 2nd half of May! And once again, NYC weather still thinks it's Fall/Winter.
Can you believe the year is almost half over? That's nearly 6 months of new books! Here's the latest for the back-half of May. Stay warm, New Yorkers.
At least it's "snuggle up with a good book" weather. ¯_(ツ)_/¯
---
The Fire Man by Joe Hill (May 17; SFF/Apocalyptic; William Morrow) -No one knows exactly when it began or where it originated. A terrifying new plague is spreading like wildfire across the country, striking cities one by one: Boston, Detroit, Seattle. The doctors call it Draco Incendia Trychophyton. To everyone else it's Dragonscale, a highly contagious, deadly spore that marks its hosts with beautiful black and gold marks across their bodies—before causing them to burst into flames. Millions are infected; blazes erupt everywhere. There is no antidote. No one is safe.
Harper Grayson, a compassionate, dedicated nurse as pragmatic as Mary Poppins, treated hundreds of infected patients before her hospital burned to the ground. Now she's discovered the telltale gold-flecked marks on her skin. When the outbreak first began, she and her husband, Jakob, had made a pact: they would take matters into their own hands if they became infected. To Jakob's dismay, Harper wants to live—at least until the fetus she is carrying comes to term. At the hospital, she witnessed infected mothers give birth to healthy babies and believes hers will be fine too. . . if she can live long enough to deliver the child.
Convinced that his do-gooding wife has made him sick, Jakob becomes unhinged, and eventually abandons her as their placid New England community collapses in terror. The chaos gives rise to ruthless Cremation Squads—armed, self-appointed posses roaming the streets and woods to exterminate those who they believe carry the spore. But Harper isn't as alone as she fears: a mysterious and compelling stranger she briefly met at the hospital, a man in a dirty yellow fire fighter's jacket, carrying a hooked iron bar, straddles the abyss between insanity and death. Known as The Fireman, he strolls the ruins of New Hampshire, a madman afflicted with Dragonscale who has learned to control the fire within himself, using it as a shield to protect the hunted . . . and as a weapon to avenge the wronged.
In the desperate season to come, as the world burns out of control, Harper must learn the Fireman's secrets before her life—and that of her unborn child—goes up in smoke
Desire After Dark (The McCarthys of Gansett Island #15) by Marie Force (May 23; Contemporary Romance; HTJB, INc.) – Tobias "Slim" Jackson has the perfect life as a pilot on Gansett Island in the summer and in Florida in the winter. He's happiest when he's in the air, or at least that was the case before last summer when he met Erin Barton, Gansett Island's newest lighthouse keeper. Now he can't seem to find his usual enthusiasm for flying, winter in the sunny South or anything that doesn't include her.
Erin has been stuck on pause since she lost her twin brother. She'll tell you herself that her life has been a hot mess since Toby died. After dropping out of law school, she's flitted from one pointless job to another, existing rather than truly living. Then she comes to Gansett Island to take over as the new lighthouse keeper and meets Slim, who happens to share her beloved brother's first name. That small coincidence is enough to convince Erin that she needs to spend more time with the dashing pilot—except for the fact that he's spending the winter more than a thousand miles from her.
Now Slim's come home to Gansett for the holidays and to hopefully pick up where he left off with Erin. He's got twelve days before he's due back in Florida to finish out the remainder of his winter obligations. A lot can happen in twelve days, but will it be enough to convince Erin that it's time to start truly living again? Read Slim and Erin's story and catch up with the rest of the Gansett Island cast in Desire After Dark!
Sapphire Attraction by Zuri Day (May 24, Contemporary Romance; Harlequin Kimani – Fire and ice… 
Real estate mogul Ike Drake Jr. likes women the way he likes his cars—polished, sophisticated and reliable. Quinn Taylor, meanwhile, is as fiery and unpredictable as the red Corvette she drives. From the moment she roars into Paradise Cove, music blasting, they're like oil and water. And when a judge rules that Quinn must work off the damages in Ike's office after she broadsides his sedan, the tension between them escalates…before exploding into raw desire.
Quinn's unconventional ways are ruffling feathers in this picturesque town. Yet there's something compelling about the place—and about powerfully strong, steady Ike. Simple chemistry won't be enough to bridge the gap between them, especially with a determined ex-girlfriend waiting in the wings. It'll take the kind of trust that requires putting your heart on the line to secure a glittering, priceless future…
We Stand On Guard (We Stand On Guard #1-6) by Brian K. Vaughan, Steve Skroce (artist), Matt Hollingsworth (artist) (May 24; Graphic Novel; Image Comics) – SAGA writer BRIAN K. VAUGHAN teams with artistic legend and Hollywood storyboard artist STEVE SKROCE for a subversive, action-packed military thriller. Set 100 years in our future, WE STAND ON GUARD follows a heroic band of Canadian civilians turned freedom fighters who must defend their homeland from invasion by a technologically superior opponent…the United States of America. Collecting all six issues of the controversial hit miniseries
The Progeny (Descendants of the Blood Countess #1) by Tosca Lee (May 24; Fantasy; Howard Books) – New York Times bestselling author Tosca Lee brings a modern twist to an ancient mystery surrounding the most notorious female serial killer of all time. A fast-paced thriller for fans of Ted Dekker's The Books of Mortals, Dan Brown's The Da Vinci Code, and BBC America's hit series Orphan Black.
Emily Jacobs is the descendant of a serial killer. Now, she's become the hunted.
She's on a quest that will take her to the secret underground of Europe and the inner circles of three ancient orders—one determined to kill her, one devoted to keeping her alive, and one she must ultimately save.
Filled with adrenaline, romance, and reversals, The Progeny is the present-day saga of a 400-year-old war between the uncanny descendants of "Blood Countess" Elizabeth Bathory, the most prolific female serial killer of all time, and a secret society dedicated to erasing every one of her descendants. A story about the search for self filled with centuries-old intrigues against the backdrop of atrocity and hope.
His Loving Caress by Candace Shaw (May 24, Contemporary Romance; Harlequin Kimani) –  Hearts in harmony? 
Instead of falling apart when her childhood sweetheart chose his music career over marriage, Elle Lauren fled to Paris to study fashion design. Her stunning wedding gowns now give other brides the happily-ever-after she didn't have. Ignoring Braxton Chase's long-distance apologies has been easy. But meeting him once more stirs the deep longings and desires that a decade has not erased.
Braxton walked away from the pressure to marry at a young age, and he's regretted breaking Elle's heart ever since. From the moment he sees her again at his Atlanta jazz club, he knows he wants more than forgiveness—he wants a second chance at the body-and-soul connection that they once had. Can he convince her to trust the sweet, seductive melody of their lost love?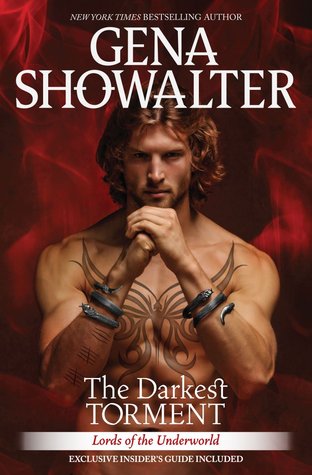 The Darkest Torment (Lords of the Underworld #12) by Gena Showalter (May 31; Paranormal Romance; Harlequin) – Driven to his death by the demon of Distrust, Baden spent centuries in purgatory. Now he's back, but at what cost? Bound to the king of the underworld, an even darker force, he's unable to withstand the touch of another…and he's quickly devolving into a heartless assassin with an uncontrollable temper. Things only get worse when a mission goes awry and he finds himself saddled with a bride—just not his own.
Famed dog trainer Katarina Joelle is forced to marry a monster to protect her loved ones. When she's taken hostage by the ruthless, beautiful Baden immediately after the ceremony, she's plunged into a war between two evils—with a protector more dangerous than the monsters he hunts. They are meant to be enemies, but neither can resist the passion burning between them…and all too soon the biggest threat is to her heart.
But as Baden slips deeper into the abyss, she'll have to teach him to love…or lose him forever.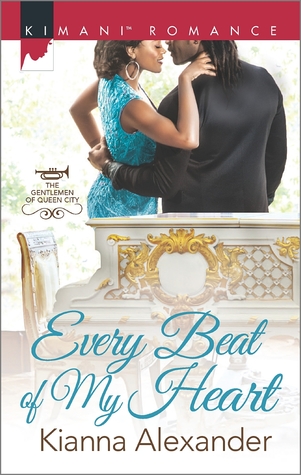 Every Beat of My Heart by Kianna Alexander (May 24; Contemporary Romance; Harlequin Kimani) – Lina Smith-Todd is a winning bid away from owning a piece of musical history. The auction heats up when she discovers that her chief competition for a piano owned by Thelonious Monk is the man who once shared her bed. But the priceless baby grand isn't all that the seductive, supremely confident musician intends to possess. Rashad MacRae wants a second chance to be with Lina.
Rashad's passion for music was inspired by the legendary Monk. But if walking away with the prize means losing his shot at a future with Lina, he's ready to concede defeat. To entice her back into his arms, Rashad has to find a way to regain the self-sufficient attorney's trust. And now a family revelation could cost him everything. Can doubt be swept away by the promise of an everlasting love song they both know by heart?
The Medusa Chronicles (Sekret Machines) by Stephen Baxter, Alastair Reynolds (May 24; SFF/Space Opera: Saga Press) – A sequel to Sir Arthur C. Clarke's Nebula Award–winning novella "A Meeting with Medusa," this novel continues the thrilling adventure of astronaut Howard Falcon, humanity's first explorer of Jupiter from two modern science fiction masters.
Howard Falcon almost lost his life in an accident as the first human astronaut to explore the atmosphere of Jupiter—and a combination of human ingenuity and technical expertise brought him back. But he is no longer himself. Instead, he has been changed into an augmented human: part man, part machine, and exceptionally capable.
With permission from the Clarke Estate, Stephen Baxter and Alastair Reynolds continue this beloved writer's enduring vision and have created a fresh story for new readers. The Medusa Chronicles charts Falcon's journey through the centuries granted by his new body, but always back to mysteries of Jupiter and the changing interaction between humanity and the universe. A compelling read full of incredible action right from the beginning, this is a modern classic in the spirit of 2001 and The Martian.
The City of Mirrors (The Passage #3) by Justin Cronin (May 24; Post-Apocalyptic/Horror; Ballantine Books) – In "The Passage" and "The Twelve", Justin Cronin brilliantly imagined the fall of civilization and humanity s desperate fight to survive. Now all is quiet on the horizon but does silence promise the nightmare s end or the second coming of unspeakable darkness? At last, this bestselling epic races to its breathtaking finale.
"The world we knew is gone. What world will rise in its place?"
The Twelve have been destroyed and the hundred-year reign of darkness that descended upon the world has ended. The survivors are stepping outside their walls, determined to build society anew and daring to dream of a hopeful future.
But far from them, in a dead metropolis, he waits: Zero. The First. Father of the Twelve. The anguish that shattered his human life haunts him, and the hatred spawned by his transformation burns bright. His fury will be quenched only when he destroys Amy – humanity's only hope, the Girl from Nowhere who grew up to rise against him.
One last time light and dark will clash, and at last Amy and her friends will know their fate.
The View from the Cheap Seats: Selected Nonfiction by Neil Gaiman (May 31; Nonfiction/Essays; William Morrow) – An inquisitive observer, thoughtful commentator, and assiduous craftsman, Neil Gaiman has long been celebrated for the sharp intellect and startling imagination that informs his bestselling fiction. Now, The View from the Cheap Seats brings together for the first time ever more than sixty pieces of his outstanding nonfiction. Analytical yet playful, erudite yet accessible, this cornucopia explores a broad range of interests and topics, including (but not limited to): authors past and present; music; storytelling; comics; bookshops; travel; fairy tales; America; inspiration; libraries; ghosts; and the title piece, at turns touching and self-deprecating, which recounts the author's experiences at the 2010 Academy Awards in Hollywood.
Insightful, incisive, witty, and wise, The View from the Cheap Seatsexplores the issues and subjects that matter most to Neil Gaiman—offering a glimpse into the head and heart of one of the most acclaimed, beloved, and influential artists of our time.