It's been two weeks, and we're still here!
And all the new January books are happening in the second half of the month.
Aren't you lucky?
---
Feversong (Fever #9) by Karen Marie Moning  (Jan. 17th; Urban Fantasy; Delacorte Press) – A#1 New York Times bestselling author Karen Marie Moning returns with the epic conclusion to her pulse-pounding Fever series, where a world thrown into chaos grows more treacherous at every turn. As Mac, Barrons, Ryodan, and Jada struggle to restore control, enemies become allies, right and wrong cease to exist, and the lines between life and death, lust and love, disappear completely.
Black holes loom menacingly over Dublin, threatening to destroy the Earth. Yet the greatest danger is the one MacKayla Lane has unleashed from within: the Sinsar Dubh—a sentient book of unthinkable evil—has possessed her body and will stop at nothing in its insatiable quest for power.
The fate of Man and Fae rests on destroying the book and recovering the long-lost Song of Making, the sole magic that can repair the fragile fabric of the Earth. But to achieve these aims, sidhe-seers, the Nine, Seelie, and Unseelie must form unlikely alliances and make heart-wrenching choices. For Barrons and Jada, this means finding the Seelie Queen who alone can wield the mysterious song, negotiating with a lethal Unseelie prince hell-bent on ruling the Fae courts, and figuring out how to destroy the Sinsar Dubh while keeping Mac alive.
This time, there's no gain without sacrifice, no pursuit without risk, no victory without irrevocable loss. In the battle for Mac's soul, every decision exacts a tremendous pric
Aftermath: Empire's End (Star Wars: Aftermath #3)
by Chuck Wendig (Jan. 17th; SFF) – As the final showdown between the New Republic and the Empire draws near, all eyes turn to a once-isolated planet: Jakku.
The Battle of Endor shattered the Empire, scattering its remaining forces across the galaxy. But the months following the Rebellion's victory have not been easy. The fledgling New Republic has suffered a devastating attack from the Imperial remnant, forcing the new democracy to escalate their hunt for the hidden enemy.
For her role in the deadly ambush, Grand Admiral Rae Sloane is the most wanted Imperial war criminal—and one-time rebel pilot Norra Wexley, back in service at Leia's urgent request, is leading the hunt. But more than just loyalty to the New Republic drives Norra forward: Her husband was turned into a murderous pawn in Sloane's assassination plot, and now she wants vengeance as much as justice.
But Sloane, too, is on a furious quest: pursuing the treacherous Gallius Rax to the barren planet Jakku. As the true mastermind behind the Empire's devastating attack, Rax has led the Empire to its defining moment. The cunning strategist has gathered the powerful remnants of the Empire's war machine, preparing to execute the late Emperor Palpatine's final plan. As the Imperial fleet orbits Jakku, an armada of Republic fighters closes in to finish what began at Endor. Norra and her crew soar into the heart of an apocalyptic clash that will leave land and sky alike scorched. And the future of the galaxy will finally be decided.
This Is Love: Illusion of Love / From My Heart
by Nana Malone, Sienna Mynx (Jan 17th; Contemporary Romance; Harlequin Kimani) – Valentine's Day holds sensual and sexy surprises in these two irresistible stories…
Illusion of Love by Nana Malone
Valentine Anderson's parents clearly gave her the wrong first name. Her last two relationships ended on Valentine's Day, and her current one implodes right before her sister's wedding. Then the dashing and adventurous photographer next door suggests a fake relationship to keep her family and his boss's overattentive wife at bay. It's just an act, until Val starts acting on her impulses…and make-believe becomes undeniably too real!
From My Heart by Sienna Mynx
First Aniyah Stevens is jilted a week before her wedding. Now she's stuck with the bill for a romantic and lavish Italian honeymoon. Rising above her disappointment, she goes solo—only to find that it's a couples-only getaway. Charming resort owner Niccolo Montenegro has his own heartache to bear. But kindred spirit Aniyah tempts him with an offer that could make their Valentine's Day memorable for all the right reasons…
Feel the Heat by Cheris Hodges (Jan 17th; Contemporary Romance; Harlequin Kimani) – Behind closed doors? 
Relationship blogger and bestselling author Mimi Collins built her brand by talking openly about sex and love. But after a blog she posts negatively depicting a speed-dating site goes viral, she needs legal advice, and fast. Lucky for her, she has an irresistible advocate in Brent Daniels, her gorgeous new neighbor. The celebrated attorney and TV personality just took on her case. And he plays to win—in and out of court.
Putting the moves on his client is taboo, but how can Brent turn down his feelings for Atlanta's hottest romance expert? He knows what a woman really wants: candlelight and roses, champagne and seduction. Until a legal victory leads to an intimate tête-à-tête…and a very public kiss. But with a tragic secret buried in his past, Brent can't afford any negative publicity. And now that his reputation is on the line, so is his future with Mimi. And he doesn't intend to lose his chance with the woman he loves without a fight.
Accidentally on Purpose (Heartbreaker Bay #3)
by Jill Shalvis (Jan 24th; Contemporary Romance; Avon) – There's no such thing as a little in love…
Elle Wheaten's priorities: friends, career, and kick-ass shoes. Then there's the muscular wall of stubbornness that's security expert Archer Hunt—who comes before everything else. No point in telling Mr. "Feels-Free Zone" that, though. Elle will just see other men until she gets over Archer . . . which should only take a lifetime . . .
There's no such thing as a little in lust…
Archer's wanted the best for Elle ever since he sacrificed his law-enforcement career to save her. But now that she's earned happiness and success, Archer just wants Elle 24/7. Their chemistry could start the next San Francisco Earthquake, and Archer doesn't want to be responsible for the damage. The alternative? Watch her go out with guys who aren't him . . .
There is such a thing as…
As far as Archer's concerned, nobody is good enough for Elle. But when he sets out to prove it by sabotaging her dates, she gets mad—and things get hot as hell. Now Archer has a new mission: prove to Elle that her perfect man has been here all along…
Branded by Flames (Dragon Soul #1) by Sean Michael (Jan. 30th; Paranormal Romance; Carina Press) – Meet the Beteferoce brothers. Five dragon shifters, each with a strong elemental power. And each with a fierce desire to find his soul mate…
For years, dragon-shifter-slash-firefighter Jake has been searching for his mate, but he's beginning to tire of the search. Maybe soul mates are only for the lucky few.
Then he meets Shae.
A former navy welder, Shae is handsome, talented, into power play and rough sex, and covered in dragon tattoos. All of this suits the shape-shifting dragon just fine—until he finds out that Shae literally has Jake's family crest already tattooed on him. A coincidence? Or something more…
Jake must convince Shae to trust him as a man and as a Dom before the heat between them burns out of control. Becoming a dragon's mate is not without danger, and Shae will need Jake's guidance—and love—if he's going to make it through alive.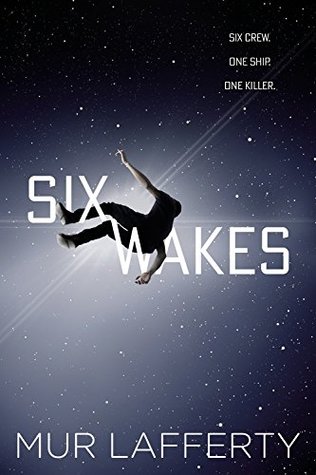 Six Wakes by Mur Lafferty (Jan. 31st; SFF; Orbit) – A space adventure set on a lone ship where the murdered crew are resurrected through cloning to discover who their killer was — and the secret to their mission.
It was not common to awaken in a cloning vat streaked with drying blood.
At least, Marie Shea iv had never experienced it. She had no memory of how she died. That was also new; before, when she had awakened as a new clone, her first memory was of how she died, from illness once and from injury once…
Maria's vat was in the front of six vats, each one holding the clone of a crew member of the starship Pituitary, each clone waiting for its previous incarnation to die so it could awaken. Apparently Maria wasn't the only one to die recently.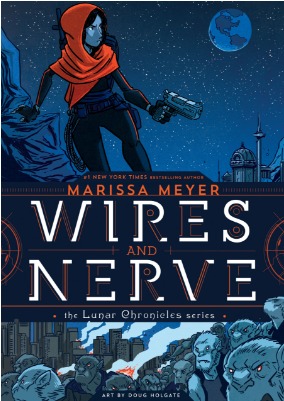 Wires and Nerve, Volume 1 (Wires and Nerve #1)
by Marissa Meyer, Douglas Holgate, Illustrations (Jan. 31st; YA SFF/Graphic Novel; Feiwel & Friends) – In her first graphic novel, #1 New York Times and USA Today bestseller Marissa Meyer follows Iko, the beloved android from the Lunar Chronicles, on a dangerous and romantic new adventure — with a little help from Cinder and the Lunar team.
In her first graphic novel, bestselling author Marissa Meyer extends the world of the Lunar Chronicles with a brand-new, action-packed story about Iko, the android with a heart of (mechanized) gold. When rogue packs of wolf-hybrid soldiers threaten the tenuous peace alliance between Earth and Luna, Iko takes it upon herself to hunt down the soldiers' leader. She is soon working with a handsome royal guard who forces her to question everything she knows about love, loyalty, and her own humanity. With appearances by Cinder and the rest of the Rampion crew, this is a must-have for fans of the bestselling series.
Breathless (Old West #2) by Beverly Jenkins (Jan 31st; Historical Romance; Avon) – As manager of one of the finest hotels in Arizona Territory, Portia Carmichael has respect and stability—qualities sorely missing from her harsh childhood. She refuses to jeopardize that by hitching herself to the wrong man. Suitors are plentiful, but none of them has ever looked quite as tempting as the family friend who just rode into town…and none has looked at her with such intensity and heat.
Duchess. That's the nickname Kent Randolph gave Portia when she was a young girl. Now she's a stunning, intelligent woman—and Kent has learned his share of hard lessons. After drifting through the West, he's learned the value of a place to settle down, and in Portia's arms he's found that and more. But convincing her to trust him with her heart, not just her passion, will be the greatest challenge he's known—and one he intends to win…

Home (Binti #2) by Nnedi Okorafor (Jan. 31st; Speculative fiction/SFF; Tor.com) – The thrilling sequel to the Nebula-nominated Binti.
It's been a year since Binti and Okwu enrolled at Oomza University. A year since Binti was declared a hero for uniting two warring planets. A year since she left her family to pursue her dream.
And now she must return home to her people, with her friend Okwu by her side, to face her family and face her elders.
But Okwu will be the first of his race to set foot on Earth in over a hundred years, and the first ever to come in peace.
After generations of conflict can human and Meduse ever learn to truly live in harmony?